President-elect Barack Obama recently announced his nomination of Steven Chu  as the next Secretary of Energy.

Chu said that his interest in science goes back to elementary school, a crucial time in developing the scientists this nation, and the world, need in order to keep up with the changes that our lifestyle demands create.
Chu shared a Nobel prize in physics for developing a method to trap atoms with laser light. As a scientist he can bring to the office an understanding of energy and a commitment to alternative energy concepts beyond politics and economics.
The Wiess Energy Hall plays an inspirational role in the formation of young scientists in the Houston area. The Wiess Energy Hall also catalyses interactions between young scientists and existing scientists from local research organizations.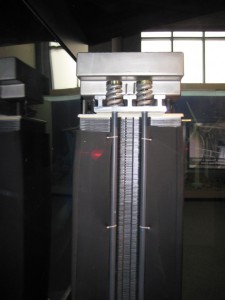 Hydrogen Fuel Cell
One great example is the work of Dr. Peter Strasser, Assistant Professor, Department of Chemical and Biomolecular Engineering, University of Houston.  Dr Strasser's research on clean hydrogen fuel cell technology was recently chosen as the highlight for 2008 in the "Energy for Sustainability Engineering" section  for a grant received by the National Science Foundation.
His research is aimed at developing a new way to get fuel hydrogen out of the air.  Currently, hydrogen fuel cell technology is expensive.  This new reaction makes it more cost effective.  By putting non-noble transition metals with a platinum catalyst, the new oxygen reducing reaction is more efficient. 
Part of Dr. Strasser's grant included a learning component where he brought middle school students to the Wiess Energy Hall in order to help them learn more about sustainable energy technologies.
Pictured below are Lisa White, Rebecca Scheers, April Bievenour, Dr. Strasser, and Neil Manchon. These students were attending West Briar Middle School at the time. Just as Steven Chu was influenced by other scientists, these students are learning from Dt Strasser that science is fun and exciting.