Today's post is written by Sibyl Keller, a volunteer recruiter and educational coordinator at HMNS. Today, she tells us about the bearded dragons that live in her office, and what happens when another one comes to visit.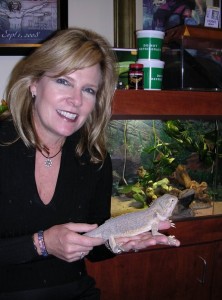 Sibyl, holding Leonardo.
So…what's happening in the Volunteer Office other than recruiting new volunteers, interviewing new talents, filling tours, booking docents, scheduling on-going training, handling birthday parties, writing college recs, and just keeping up with the hopping pace around HMNS?  Natural science – that's what! it's been happening under our noses – and keeping us all intrigued and inspired by how incredible the animal world is!
It all happened when Chris and Erin adopted their first baby – Monster, a beautiful young female bearded dragon!  Draco and Leonardo are the (lizard) kings of the Volunteer Office.  Draco is a handsome beardie – a gentleman of almost ten years.  And I was fortunate to adopt Leonardo – a young chap beardie of two years this last summer.  And then Monster arrived for a visit.
It was love at first sight -Leo and Monster couldn't keep their eyes off of each other!  And if you have never seen beardies put on their mating dance – it is an incredibly captivating event. Leo – so eager to impress his new friend – totally bearded out with a solid heavy black coloration under his chin (it is this behavior that gives the species the name "bearded dragon.")  Between the black beard and the head bobbing with determination – Monster was truly moved! She began waving gracefully, first with one arm, then the other. 
Even with an office full of museum staff watching the mating dance, you could have heard a pin drop until Chris expressed that…this was kind of weird…He didn't don't know if it is a good weird or a bad weird!
Unfortunately, I don't have a video of our beardies dancing, but I found a video of another beardie bobbing away.
So when Chris left with the HMNS Paleo Team to head to Seymour, Texas on the Fossil Dig five weeks ago – I got to babysit Monster for a couple of weeks!  So – here we are, 5 weeks later (which happens to be the gestation period for beardies) – hummmmm…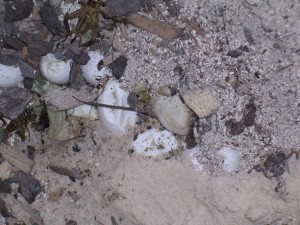 Can you see the eggs?
After mixing together a nice compost for Monster, Googling to find out what beardies like for a nest – the waiting game began!  Day after day, Monster redistributed her compost from one side of her habitat to the other.  She started practicing her digging skills in between warming her growing belly on her heat rock.  Karen (my fellow volunteer coordinator) described her well – what a keen resemblance Monster had to a Portobello mushroom!  And – what an appetite!  Crickets, juicy superworms, carrots and collard greens – of course, the crickets were presented to her with a nice coat of calcium for the mother to be.
Then last week – the discovery was made!  After a long night – it must have been, Monster had created a mountain from her compost on top of her heat rock and was playing king of the mountain just about all morning.  It wasn't until she got a superworm treat that she would inch away from her mountain!  My work began.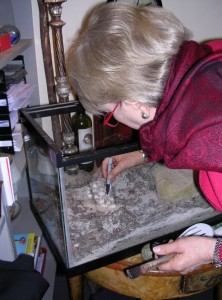 Karen Fritz, marking the eggs.
Carefully sifting through the compost a little at a time – I was in search of the mother load – a nest of beardie eggs – Monster's first clutch.  Totally amazed that not an egg was found, I started to think that she didn't look so much like a Portobello mushroom, there were no eggs – maybe my imagination just got the best of me.  The Princess was so lethargic, I started to worry that maybe she was sick. 
After watching her all day, I felt better when she had a healthy appetite.  I decided to start sifting some of the mulch out of her habitat – as ingesting any of this could be very harmful to her.  As I cleaned her aquarium, I lifted her large heat rock and the discovery was made!  We hit the jackpot with 24 small marshmallow-size beardie eggs!  It is truly amazing that this little lizard knew just what to do to keep her clutch warm.  I cannot even imagine how she was able to dig out the dirt under her heat rock to lay 24 eggs without crushing them!  Nature is amazing.
How did this little Princess lay 24 eggs?!  Well – from the Internet, I discovered it was not at all uncommon for a Bearded Dragon to lay up to 30 – 50 eggs in a clutch!  But – the female wouldn't necessarily lay all of the eggs at one time.  She could choose to lay a couple of eggs one week, one or two a week later – and as the process continues – it could be months before the whole clutch was laid!  Dang – that meant I would be spending quite a time of the Christmas holiday egg-sitting in the Volunteer Office at HMNS!  Lucky for me — and I'm sure happily for her — Monster laid all 24 eggs during one evening after hours, probably while the music played and laughter was heard during holiday celebrations taking place through out the exhibit halls up above!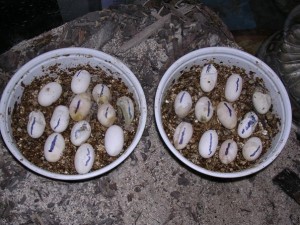 The eggs, with black lines to
mark their original positions.
You might notice black lines imprinted along the length of each egg from top to bottom.  The lines were introduced by Karen Fritz, my Volunteer Office co-partner in crime, who has a smooth and steady hand and a good sharpie!  I learned of this process from me earlier research.  It is extremely important to not rotate or change the position of the eggs while moving them.  After carefully uncovering the eggs, Karen marked each egg in order for us to move them in this order.  She wanted to mark them 1, 2, 3…up to 24 — until she understood we just needed a line to identify top and bottom of each egg!  If any eggs were turned upside down, it would surely damage or kill the developing embryo.  We then placed them in small deli cup containers filled with dampened vermiculite that would hold moisture throughout their time of incubation.
Eggs, in the incubator – where they
will stay until they hatch!
As the incubator is quietly protecting these little jewels for 60 to 70 days, Monster is now far away from her little 2 week vacation spent in the Volunteer Office.  She is back home with Erin and Chris – I understand with a frisky new way about her and a grand new appetite!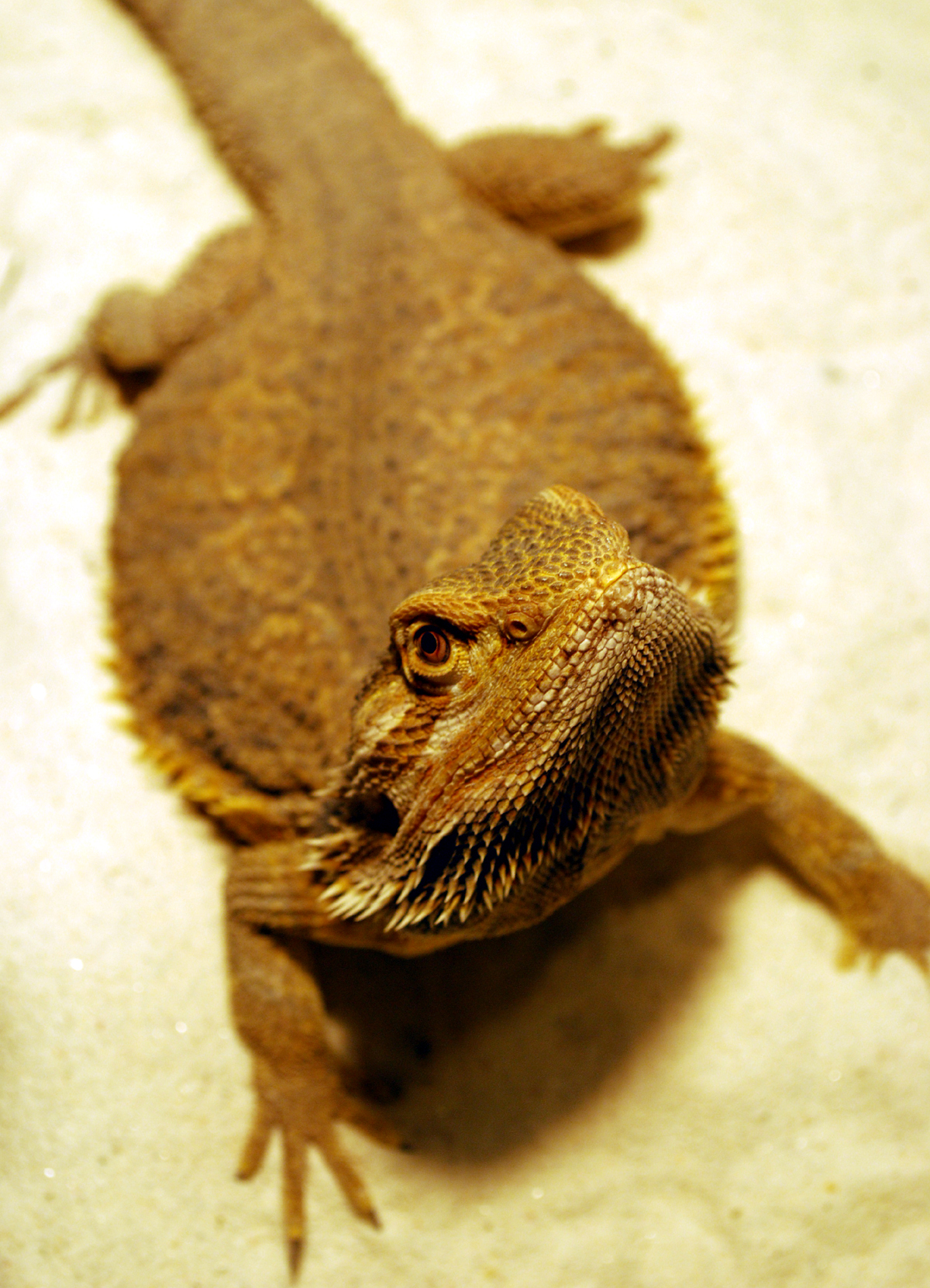 Monster at home