Throughout 2009, the Houston Museum of Natural Science is celebrating one hundred years of natural science education in fulfillment our mission:
To preserve and advance the general knowledge of natural science;
to enhance in individuals the knowledge of and delight in natural science and related subjects;
and to maintain and promote a museum of the first class.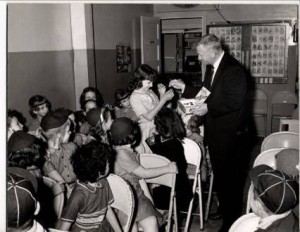 A photo of some of our early educational programs.
When twenty visionary Houstonians established the Houston Museum and Scientific Society in 1909, the new organization welcomed visitors to an assortment of small exhibits first housed in the City of Houston's public auditorium and at the downtown public library. Since then, through the tireless efforts and assiduous passion of generations of Houstonians over the course of a century, the Museum has continued to grow—first from those modest displays downtown to more spacious accommodations in the Houston Zoo, and then, with the opening of the Burke Baker Planetarium in 1964, to the Museum's current location in Hermann Park. Over the years, HMNS has continued to acquire major collections, expand its permanent exhibitions, and add new venues: the Expedition Center in 1988, the George Observatory and the Wortham IMAX Theater in 1989, and the Cockrell Butterfly Center in 1994.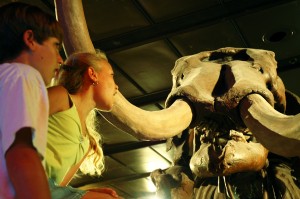 Modern kids marvel at the Mastodon
on display in the Hall of Paleontology.
Today, the Houston Museum of Natural Science is an expansive, multi-story science center where millions of families, students and visitors from around the globe gather to experience the natural world through exceptional permanent galleries such as the Wiess Energy Hall and the Cullen Hall of Gems and Minerals, as well as unparalleled world premiere exhibitions bringing the earth's wonders to Houston, including the recent offerings Lucy's Legacy: The Hidden Treasures of Ethiopia and The Birth of Christianity: A Jewish Story, both of which were organized by HMNS.
Even as we commemorate the Museum's rich past, we continue to look to the future. Our satellite locations have extended the Museum's educational programs into The Woodlands (2007) and (coming in 2009) Sugar Land. Additionally, with our capital campaign "Building on a Second Century of Science," we're planning the launch of a major expansion that will double the Museum's size in Hermann Park.
This year, celebrate our centennial at one hundred fun family events planned throughout 2009 and get an inside look at the Museum's vast collections—we've selected a hundred of the most compelling objects from millions of possibilities, and we'll be posting photos and descriptions here – as well as on our main web site at www.hmns.org. Check back here frequently to learn more about this diverse selection of behind-the-scenes curiosities—we will post the image of a new object every few days.