The tropical habitat that our butterflies call home is a great place to learn about some cool and useful rainforest plants. I must have been hungry today because all of the plants that came to mind were those with edible fruits! Here are some examples of fruit trees you can find in the Butterfly Center.  SInce most of our plants hail from Latin America, I've given common names in both English and Spanish, when available.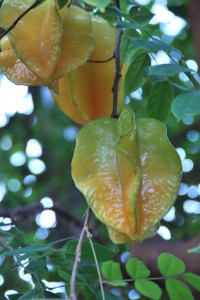 Star Fruit/Carambola – Averrhoa carambola 
This tree is a relative of the sour "clover" (Oxalis) weed that grows in Houston lawns and gardens.  The common name describes the five-sided fruit, yellow when ripe, that when sliced shows the star shape.  Carambola is quite tart, even when ripe, and is most often used to make a fruit drink in Central and South America.  In the USA it is sometimes seen as an exotic garnish on gourmet salads.  You'll pay $2 or more per fruit, if you can even find it – we should open a fruit stand here because our tree is loaded!  Luckily the butterflies enjoy sipping on the fallen, overripe ones. 
Cacao/Chocolate – Theobroma cacao 
Theobroma means "drink of the gods" and most people agree that chocolate is a divine substance.  Unfortunately, our chocolate tree has not produced any fruits to date – perhaps because it needs to be cross-pollinated, and/or because its tiny pollinators, a midge (a minuscule fly sort of like a gnat), do not inhabit the butterfly center.  It's too bad, because cacao pods are quite impressive – almost as big as a football, they grow out of the trunk and lower branches of their parent plant.  This phenomenon is called "cauliflory" ("trunk flower") – and is rare in temperate plants.  It's even more bizarre when you look at the flowers that produce such monster frutis; cacao flowers are very small and delicate, with an ornate and complicated structure.  Chocolate is made from the dried, ground up seeds, which when fresh are covered with a thin layer of tart, juicy flesh.
Coffee/Cafe – Coffea arabica
Coffee doesn't need much introduction. The shrub's berries, red when ripe, each contain two seeds or beans that are dried, roasted, ground and brewed to produce the aromatic and addictive drink, America's favorite beverage. However, did you know that coffee is related to gardenias? If our coffee shrub is blooming when you visit, you will soon be convinced. The white flowers, much smaller than those of gardenia, have the same heavenly scent.
Calabash/Jocote – Crescentia cujete 
The calabash is another example of cauliflory.  This relative of catalpa ("bean tree") and trumpet creeper produces large, hard, green fruits on its branches and trunk.  Calabashes look very much like round gourds even though the two plants are completely unrelated.  In Central America the dried jocote fruits are hollowed out and used for bowls or other containers; sometimes the outer rind is carved in decorative patterns.  In El Salvador people enjoy a drink (horchata) made from the ground-up seeds of jocote.  

Guava/Guayaba – Psidium guajava  
These smallish trees, native to tropical America, are in the same family as eucalyptus. Guava bark is very smooth and thin, reminiscent of crape myrtle bark – no relation, however!  The pungent-smelling fruits are seldom eaten "as is" but are made into drinks or a thick jelly called "ate," or are canned as "shells" – which are delicious served with cream cheese (a Cuban dessert specialty, I believe).  In nature, the rotting, fallen fruits are irresistible to some of the fruit-feeding butterflies such as the crackers, the malachite, etc.  I am happy to see that, thanks (?) to global warming, guavas are now being planted in Houston.  I'm sure our local emperor butterflies will learn to love the fruits as well.     
Jaboticaba – Myrciaria cauliflora 
Another member of the eucalyptus family, and another producer of cauliflorous fruits, which are borne in thick clusters along the multiple trunks of these small trees.  However, unlike the calabash or cacao, jaboticaba fruits are quite small, about the size and color of a purple grape.  In its native Brazil, the fruits are mostly eaten fresh, but are also made into jellies and wine.  According to Wikipedia, "several potent antioxidant and anti-inflammatory anti-cancer compounds have been isolated from the fruit."
Avocado/Aguacate – Persica americana 
Who does not love the buttery flesh of an avocado fruit, either sliced in salads or mushed into guacamole?  In the wild, the much smaller, wild avocados are avidly sought by birds such as toucans and quetzals, who crave the calorie-laden fruit.   Again thanks to global warming, people are now growing avocados outdoors in Houston – but the main sources of commercial avocados are still California and Mexico.  Alas our tree in the Butterfly Center has yet to produce fruits.  
We occasionally have other fruiting plants in the Center (last year we grew pineapples), and there are plenty of other plants of interest.  So remember, despite the name, the Butterfly Center is not just about the butterflies!  Botanists are sure to enjoy it as well.