The Houston Museum of Natural Science was founded in 1909 – meaning that the curators of the Houston Museum of Natural Science have been collecting and preserving natural and cultural treasures for a hundred years now. For this yearlong series, our current curators have chosen one hundred exceptional objects from the Museum's immense storehouse of specimens and artifacts—one for each year of our history. Check back here frequently to learn more about this diverse selection of behind-the-scenes curiosities—we will post the image and description of a new object every few days.
This description is from Nancy, the museum's director of the Cockrell Butterfly Center and curator of entomology. She's chosen a selection of objects that represent the rarest and most interesting insects in the Museum's collections, that we'll be sharing here – and on hmns.org – throughout the year.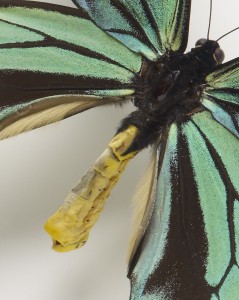 A close-up of a Queen Alexandra's
Birdwing; see the entire butterfly and
close-ups in the photo gallery on hmns.org.
Female Queen Alexandra's Birdwings are the largest butterflies in the world, reaching wingspans of more than 14 inches. Males are smaller, but more beautifully colored than females:  they have iridescent green and blue markings and a bright yellow abdomen, while females have brown wings with white markings and a cream-colored abdomen. Birdwings are members of the swallowtail family (Papilionidae).
The Queen Alexandra's Birdwing is highly endangered, and along with several other birdwing butterfly species, was placed on the Appendix I CITES list in 1977 (collecting or trading wild-caught CITES I species is prohibited by international agreement).  Our specimens were acquired before they were officially protected.  Today, the museum would be unable to obtain this or several of the other birdwing species we have in our insect collection.
Learn more about butterflies and their relatives in a visit to the new Brown Hall of Entomology, a part of the Cockrell Butterfly Center– a living, walk-through rainforest at the Houston Museum of Natural Science.
You can see larger and more detailed images of this rare specimen – as well as the others we've posted so far this year – in the photo gallery on hmns.org.