The Houston Museum of Natural Science was founded in 1909 – meaning that the curators of the Houston Museum of Natural Science have been collecting and preserving natural and cultural treasures for a hundred years now. For this yearlong series, our current curators have chosen one hundred exceptional objects from the Museum's immense storehouse of specimens and artifacts—one for each year of our history. Check back here frequently to learn more about this diverse selection of behind-the-scenes curiosities—we will post the image and description of a new object every few days.
This description is from Lisa Rebori, the museum's Vice President of Collections. She's chosen a selection of objects that represent our Museum's history, and our collections of historical technologies, that we'll be sharing here – and on hmns.org – throughout the year.
English, ca. 1820
HMNS #138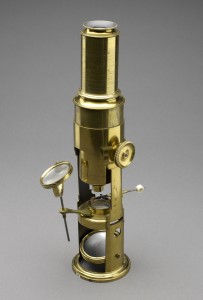 Museum purchase made possible with the support of the Junior League of Houston, Inc., 1990.
During the 17th and the first quarter of the 18th century, microscopes were made of wood, ivory and layers of paper covered with leather, vellum or fish skin, such as stingray. By the early 19th century, better microscopes were made almost entirely of brass.
This is a lacquered brass scope that is based on a design by Benjamin Martin, a teacher and instrument maker from the 1760s. This scope was designed to be portable and comes in a fitted wooden box with a variety of eye pieces and lenses to allow for various degrees of magnification. 
A feature of this type of scope is the freedom allowed to move the specimen being viewed.  [The item being viewed is held in place in the stage area by tweezers (shown below) or mounted to a slide.] This type of scope also provides increased illumination. The lens on the left is adjustable and works in combination with the mirror at the bottom, to focus light to the stage of the microscope.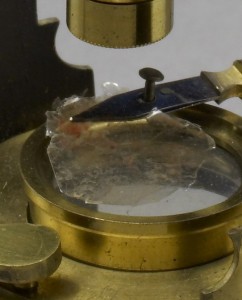 Optical focus is achieved with a rack and pinion mechanism that moves the barrel up and down the pillar by means of the knob on the side.  Instrument makers had to have knowledge of optics, in addition to mechanics.
Check back soon for more of the 100 most compelling objects from the museum's collections – we'll be posting the series throughout 2009 as we celebrate a centennial of science in Houston.