The Houston Museum of Natural Science was founded in 1909 – meaning that the curators of the Houston Museum of Natural Science have been collecting and preserving natural and cultural treasures for a hundred years now. For this yearlong series, our current curators have chosen one hundred exceptional objects from the Museum's immense storehouse of specimens and artifacts—one for each year of our history. Check back here frequently to learn more about this diverse selection of behind-the-scenes curiosities—we will post the image and description of a new object every few days.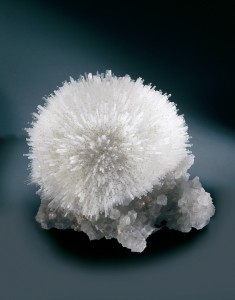 This description is from Joel, the Museum's President and curator of Gems and minerals. He's chosen spectacular objects from the Museum's mineralogy collection, which includes some of the most rare and fascinating mineral specimens in the world, that we'll be sharing here – and on hmns.org – throughout the year.
Pashan Hills Near Khadakvasla, Poona, Maharashtra, India.
Mesolite in large crystals and large, spherical sprays like the one pictured here come from only one place in the world: the Pashan Hills quarries.
The 23-cm example shown here, on fluorapophyllite matrix, is probably the world's finest example of the species.
This specimen is extremely fragile and was brought out of India by mineral dealer Rock Currier, who packed the specimen in powdered soap and bought for it a first-class airplane ticket from Bombay to Los Angeles in order to ensure its safe arrival.
Marvel at the world's most spectacular collection of natural mineral crystals in the Cullen Hall of Gems and Minerals at the Houston Museum of Natural Science.