The Houston Museum of Natural Science was founded in 1909 – meaning that the curators of the Houston Museum of Natural Science have been collecting and preserving natural and cultural treasures for a hundred years now. For this yearlong series, our current curators have chosen one hundred exceptional objects from the Museum's immense storehouse of specimens and artifacts—one for each year of our history. Check back here frequently to learn more about this diverse selection of behind-the-scenes curiosities—we will post the image and description of a new object every few days.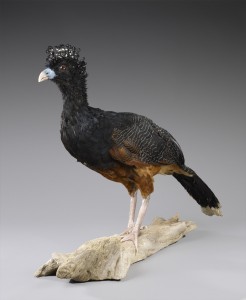 The endangered Blue-billed Curassow,
one of the 100 objects we've chosen to
celebrate the Museum's centennial.
This description is from Dan, the museum's curator of vertebrate zoology. He's chosen a selection of objects that represent the most fascinating animals in the Museum's collections, that we'll be sharing here – and on hmns.org – throughout the year.
The Blue-billed Curassow (Crax alberti) is a large bird that is endemic to the mountain valleys of northern Colombia.  The tasty flesh of this turkey-sized bird, combined with destruction of the rainforests it thrives in represent the primary threats to this and other members of the Cracid family.
This species is considered Critically Endangered by the Cracid Specialist Group, as its global population certainly can not exceed 2000 individuals.  It is certainly among the rarest of vertebrates in the collection.
You can see larger and more detailed images of this rare specimen – as well as the others we've posted so far this year – in the photo gallery on hmns.org.