The Houston Museum of Natural Science was founded in 1909 – meaning that the curators of the Houston Museum of Natural Science have been collecting and preserving natural and cultural treasures for a hundred years now. For this yearlong series, our current curators have chosen one hundred exceptional objects from the Museum's immense storehouse of specimens and artifacts—one for each year of our history. Check back here frequently to learn more about this diverse selection of behind-the-scenes curiosities—we will post the image and description of a new object every few days.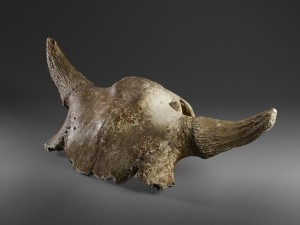 Look closely at the right side of this skull
to see the arrowtip.
This description is from Dan, the museum's curator of vertebrate zoology. He's chosen a selection of objects that represent the most fascinating animals in the Museum's collections, that we'll be sharing here – and on hmns.org – throughout the year.
This skull is of historical importance as it provides evidence of plains Indians hunting buffalo.  The front half of the arrowhead is entirely embedded in the skull, leaving the basal half exposed.  It was collected in 1939 from Erath County, just outside Ft. Worth, Texas.
Discover many other animals that roam the wilds of Texas in the Farish Hall of Texas Wildlife at the Houston Museum of Natural Science.
You can see larger and more detailed images of this rare specimen – as well as the others we've posted so far this year – in the photo gallery on hmns.org.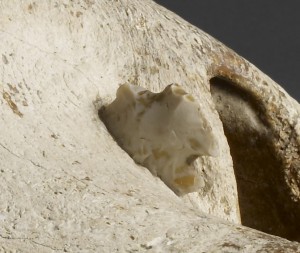 A closeup of the arrowhead embedded in this skull.