It's that time of year again. The days have gotten shorter and the temperature is slowly dropping. You may have been too busy to notice, but sometime between the shopping and cooking you probably have thought to yourself: I haven't had to swat away any mosquitoes, or I haven't been dive-bombed by clumsy June bugs. Where have all the bugs gone? Did they die? Are they hibernating? Well, the answer isn't quite that simple. Over the last millions of years, insects have learned to employ all sorts of strategies to ride out the winter. While we are putting on thick socks and sweaters, the bugs are right there with us. They are everywhere, right under our noses, literally!
If you're an insect, you basically have two choices; you can stay or you can leave. An overwhelming amount of insects choose to stay put and deal with the frigid temperatures. One of the best ways to deal with the cold is to suspend your growth and remain as an egg, larva (or nymph), or a pupa. The adults of these insects do die off in the winter, but they are very busy until then. In the late summer and early spring, praying mantidsall around are laying their egg cases in preparation for the winter. They will lay hundreds of eggs, glued together, attached to a stick or leaf, and cover them with a thick layer of foam. After constructing her last egg case, the mother of many will pass away. Through the winter, the egg case will remain safe until it feels the warmth of spring. Then hundreds of tiny mantids will hatch and start the life-cycle over again.
If you are like the June bug, you will spend the winter as a fat grub, lazily feeding on roots all winter deep underground, where it is much warmer. When spring arrives, they form a pupa and emerge as adults in early summer, giving rise to the name June bug. Similarly, dragonfly and mayfly nymphs will remain under the water's surface where temperatures stay warm enough to sustain them. This is often under a thick layer of ice! There are plenty of mosquito larvae down there to feed them through the long months. Right now in Texas, swallowtail butterflies are forming a chrysalis. The life stage that usually lasts about 2 weeks, will last for 3 months or more. Many of our visitors have a hard time thinking of a chrysalis as a living thing. It doesn't resemble anything alive at all. When they see them wiggle in response to touch, they are always amazed. The thing that they don't realize is that aside from not being able to see, they know exactly what's going on. They can feel the days getting shorter, and the temperature dropping. They won't make a move to emerge until spring comes!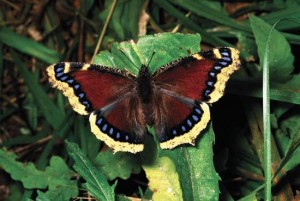 If an insect is stuck as an adult, the most vulnerable life stage, it gets a little trickier! As long as they can keep their body temperature above 45 degrees Fahrenheit, they will make it. In Texas, this is not a problem, but in the north, they sometimes have to use drastic measures. These insects often find shelter in hollowed out trees, in leaf litter, and under rocks or dead logs.
If this cannot keep the freezing temperatures away they can do something pretty interesting. They can lower the water content in their bodies and replace it with a substance called glycerol. This chemical has several practical uses, but most importantly it lowers the freezing point in their bodies, acting as antifreeze! This is what can make an insect that appears frozen and dead to magically come back to life when thawed. That's pretty impressive! This, along with going into a hibernation-like state called diapause keeps them alive. One insect that uses this method is the mourning cloak butterfly. This beautiful butterfly is the first to come out of hiding and appear in the spring.
Now if you're a social insect, you pretty much have it made. Honeybees can store several pounds of honey for food. They don't even need to leave the hive which is kept warm by the body heat of all the bees. Ant colonies spend all year building up a food supply and stay very deep below the ground. Even some insects that are not social will seek out others to pile on top of for warmth, like ladybugs.
There are some insects that have opted to take a yearly vacation to sunny Mexico, which would definitely be my choice! The monarch, perhaps the most well known insect in North America makes this amazing journey every year. It's a mind boggling to think that millions of butterflies fly up to 3000 miles to a few sites that they have never been to or seen before, how do they know how to get there? It is a mystery that keeps us all enchanted by the amazing insect. If you'd like to learn more about the monarch butterfly and their journey, visit the monarch watch website.
Since we live in an area with very mild winters, there are some bugs that we still see all year, including a lot of butterflies. There are a few local monarchs that don't feel the need to migrate south. Every year we get several calls from people who have spotted a monarch and want to know what will happen to it or if they should help it. The answer we give them is to just let it be, the temperature will probably not drop low enough to kill it and if it does freeze, the butterfly will find shelter. They know how to deal with the cold! So you may enjoy this little break from the bugs buzzing all around us. As for myself, I can't wait until the spring when all of the bugs are back, happily doing their jobs to keep the world turning! Plus I hate cold weather!
Go buggy! Learn more about insects:
The Sphinx Moth: It's a Work of Art
Don't worry, it doesn't hurt: learn how to pin a butterfly
Do butterflies breed? Your butterfly questions answered