It's the 12th day of HMNS today – and I hope you've enjoyed the series of videos and ideas for fun this holiday season at the Houston Museum of Natural Science. For all the ideas in one place, check out the 12 Days of HMNS web site. Have a lovely holiday!
The Museum District in Hermann Park isn't the only place you can visit the Houston Museum of Natural Science – we've got a satellite educational facility in The Woodlands, too! It's worth the trip just for the amazing array of dinosaurs you can see there. A cast model of Stan the T. rex guards the entrance (probably the only place you can see a dinosaur in a shopping mall); you can also see one of the world's largest juvenile Triceratops, Raymond; a fighting Protoceratops and Velociraptor; and a full sized Acrocanthosaurus skull.
In the video below, site manager Nancy WeHunt takes you on a fascinating tour of this unique facility, from the live frogs to exotic insects and much, much more.
The Woodlands Xploration Station is just one of the fun and fascinating options for families, from the Houston Museum of Natural Science. In a take-off of everyone's favorite holiday classic, The 12 Days of Christmas, we've got 12 ideas for fabulous family fun this holiday and we'll be sharing the possibilities here every day until Christmas Eve. Best of all, most are activities that last past the holiday season – some, year round. You can also check them all out now at the spiffy new 12 Days of HMNS web site.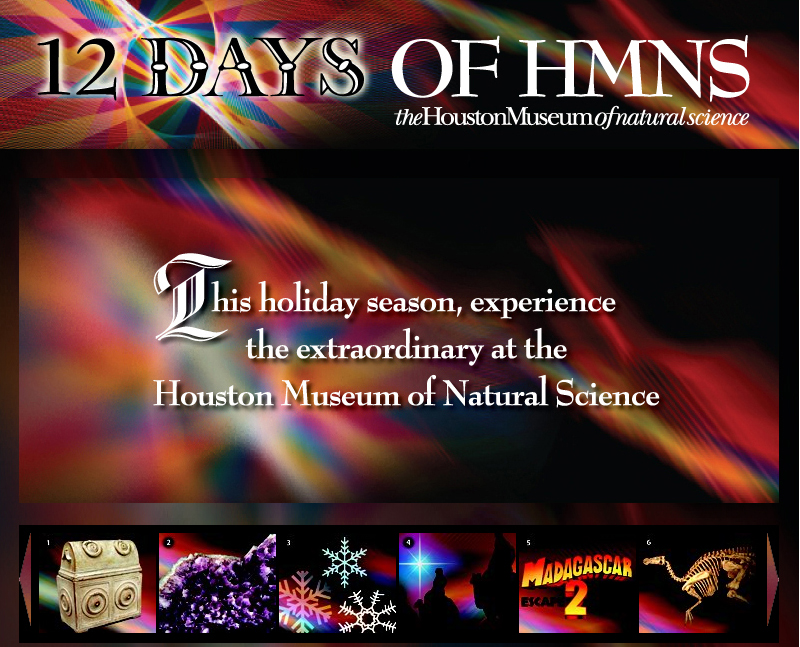 Visit the 12 Days of HMNS web site to
look behind-the-scenes this holiday;
click each small box to explore different videos.
Check out the first eleven days of HMNS:
On the first day of HMNS, explore The Birth of Christianity.
On the second day of HMNS, shop for Sci-tastic gifts.
On the third day of HMNS, meet Prancer the reindeer.
On the fourth day of HMNS, discover the making of The Star of Bethlehem.

On the fifth day, move it, move it with Madagascar 2 in the Wortham IMAX Theatre.
On the sixth day, hunt dinosaurs with Dr. Bob Bakker.
On the seventh day, look inside the human body in BODY WORLDS 2.
On the eighth day, meet the HMNS Entomologists.
On the ninth day, peer into the Gem Vault.
On the tenth day, explore the cosmos at the George Observatory.
On the eleventh day, go on the Quest for High Bear.