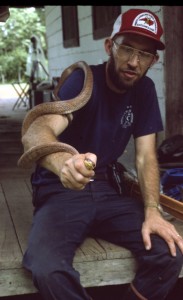 Our fearless leader
Dr. Larry Gilbert
My introduction to the tropics was in the summer of 1983, when I lucked into accompanying Dr. Larry Gilbert (UT Zoology) and his students on a field course to Corcovado National Park in Costa Rica.  Not being a student at the time (I'd gotten a BA in linguistics a couple years before but was working as a secretary on the UT campus), but having some proficiency in Spanish, I was hired by Dr. Gilbert as his assistant and translator since his regular teaching assistant was off making a film in New Guinea. 
After several weeks in Patterson Hall on the UT campus, translating documents and readying equipment, we left for Costa Rica, flying into the capitol, San Jose.  Here our party (5 graduate students plus Dr. Gilbert – Larry to his students – and myself) spent a couple of days at the "Costa Rica Inn" – a rambling one-story labyrinth of a hotel near the downtown area.  San Jose is a typical Central American city, with lots of traffic and pollution, no interesting architecture to speak of…but great ice cream and plenty of activity – and in those days, very safe at all hours.  We visited the Natural History Museum and the local university, picked up some supplies (foam mattresses and rum are what I remember!), and made our flight arrangements.  We were flying in to the park in two 5-seater Cessnas; there was no other access to the remote field site location.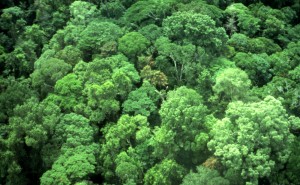 View of the Corcovado canopy from the plane.
Photo by Dr. Larry Gilbert.
The day arrived and we boarded the tiny planes.  I was quite nervous as I had never flown in such a small plane before, and the pilot warned us that it might be a bumpy ride due to rising air currents as we crossed the mountains.  And Larry joked about the two wrecked planes that decorated the end of the airstrip in the park… 
The flight took about an hour, and it was indeed turbulent.  Finally we flew out over the Osa Peninsula and saw nothing but forest below us, and then the Pacific Ocean beyond. We suddenly turned at right angles to the coastline to land at a tiny airstrip cleared in the rainforest, ending at the beach…and there, indeed, were the two wrecks.  Welcome to Sirena Station of Corcovado National Park!
We pitched tents in the clearing/horse pasture behind the rustic park station building; this would be our home for the next six weeks.  The students included Darlyne, studying heliconius butterflies; Kirk, studying the fish communities in freshwater streams; Jamie, studying howler monkeys, and Peggy and John, new students who had not yet decided on projects.  Two senior students, Peng Chai and Sue Boinski, were already in the park.  Peng was studying bird predation on butterflies.  "Bo" as she was called, was the equivalent of a mountain man, in my somewhat awed view.  She had spent the past several years following troupes of squirrel monkeys to learn about their behavior and mating habits, sometimes staying in the park for over a year at a stretch. In the course of her wanderings she had dodged fer-de-lance and bushmaster snakes, and had some (very shaky) video footage of a pair of jaguars lazily playing together, oblivious of their nervous human watcher.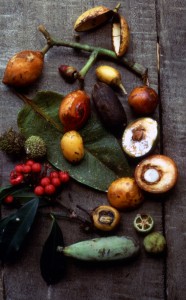 Fruits of the
Corcovado rainforest.
Photo by Dr. Larry Gilbert.
The Sirena station was a bustling place.  Since in those days (before the gold miner crisis of 1985) it served as the park headquarters, it was the central point in Corcovado for communications and supplies, which were all brought in by plane.  The park director was stationed here, along with about 5-6 park guards.  Other park guards travelling by horseback from the outlying stations came in to pick up their allotment of supplies, or to rotate out for a week's holiday.  The radio crackled all day long:  "Sierra Papa Norte Dos a Sierra Papa Norte" (National Park Service station 2 to headquarters).  I learned all sorts of things in radio lingo – "Cambio" meant over, "Dos" meant good, "Dos y medio" was so-so, "Tres" meant bad, "un 22" was a telephone call, "10" was crazy, etc. 
The station in those days was rustic.  Electricity was provided by generator only at lunchtime and for a couple hours in the evening.  Running water was ingeniously piped in from a nearby stream.  Course participants and park guards all ate together in a little open-sided building:  generous portions of rice and beans, smaller portions of meat and vegetables, inventive desserts, and drinks made from fresh tropical fruits, all deliciously prepared by Maria, the feisty and attractive cook.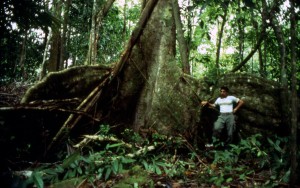 Buttress of a tropical giant.
Photo by Dr. Larry Gilbert.
The first few days Larry led his students and me on long, sometimes wild walks through the forest – up over the steep knife-edged ridges, crashing down through stream beds, slogging along the beach or sweltering through open areas.  What an amazing place!  I was in love with the forest from the moment I saw it.  So many plants – so many insects, birds, monkeys, frogs, snakes, etc.  But especially plants.  It was like being in the most amazing botanical garden.  Here things I'd only seen as houseplants grew rampantly everywhere.  Ferns were not just ferns but trees.  And trees, with their huge buttresses as big around as a house, towered into the canopy.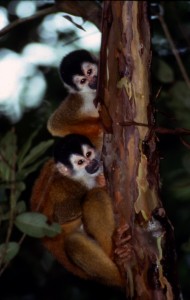 Squirrel Monkies are common
near Sirena
After a week or so of our introductory walks, the students settled down to their research projects.  Since I wasn't a student and didn't have my own project, I helped some of the others where I could.  I soon was spending most of my time with Kirk, helping him census the fish in the many small streams that cut across the peninsula – streams so clear and clean that we drank out of them.  I learned a lot about fish that summer!  At night, we all sat in the little screened porch behind the radio room, burning candles and mosquito coils while we read or wrote up our field notes, or listened to one of the students give a status report on his or her project.  Larry often regaled us with funny stories of his past students…considerably embellished over the years, I am sure!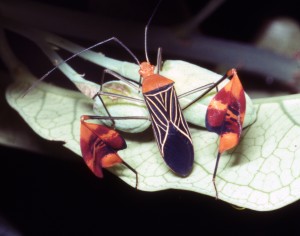 Tropical leaf-footed bug
All too soon the summer came to an end, and we had to leave the park and head back to Texas to begin the new semester.  We packed the tents and our supplies into coolers to keep out the mildew.  Said our goodbyes to the park guards and to Maria.  Cleaned up the area we had taken over as our evening "lab."  While we waited for the planes to arrive I took a last walk up the Claro trail to a ridge where, sitting on the buttress root of a huge strangler fig, I could see over the forest and out to sea.  What an adventure it had been!  What a lot of amazing biology I had learned!  Nostalgia for the place swept over me – but I heard the drone of the plane and had to rush back to camp.  We boarded the Cessna, and as it rumbled down the bumpy airstrip and began to lift into the air, I thought – if the plane crashes on the way back, I will die happy.  I have just spent the most amazing summer of my life.
I ended up becoming one of Larry's students and spending several more summers in the park and elsewhere in the tropics.  However, that first experience stays with me as one of the real highlights of my existence on this earth.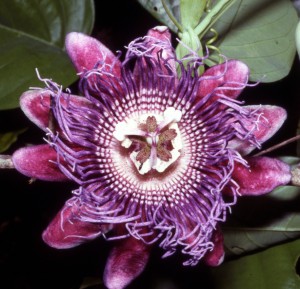 Ornate flower of a tropical passionvine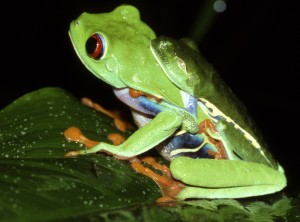 Red-eyed treefrogs.