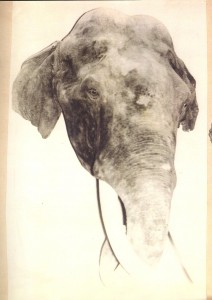 Black Diamond, part of HMNS rich
history – check back here and on
hmns.org for features and events
celebrating our centennial
throughout 2009.
Last Friday, Erin and I went to the Texas Room in the Julia Idasen building at the downtown Houston Public Library to research the history of our beloved HMNS.  We had so much fun, I thought we were going to get kicked out.  Besides the building being an amazing treasure itself, the articles we found about the Museum were awesome. 
Many of them were inspiring, some of them were serious, but a good handful were just plain fun. Did you know for example that the original title of the Expedition Center was something to the effect of "Space Lab – 2061" ? There were also several articles on objects that we remembered as kids, but that haven't been on display in a while – like Black Diamond and the shrunken heads.
So, why am I telling you this?  2009 marks our 100th anniversary as a museum and because of that we will be having a number of special events – 100 in fact. We will also have a special section on our website devoted to our 100 years of history.  Watch for what made us giggle in the weeks to come.