From Jurassic Park to A Brief History of Time, some of the best and most influential books ever written are science-based. Long before students get to Steven Hawking, however, books about science teach them to explore the world around them and inspire a curiosity that lasts a lifetime.
 
To encourage this spirit of discovery, HMNS provides monthly book lists on various science topics, from "Leonardo da Vinci" to "Lizards and Snakes" and everything in between on our web site. Nonfiction and science-based fiction options are provided at three levels: 2nd grade and below; 3rd – 6th grade; and 7th grade and higher.
Susan Buck, the museum's Director of Youth Education Sales and a former librabrian, puts these lists together each month. Starting with December's list, she'll share her inspirations for each month's topic here.
The museum's December book list features books on archaeology.  When you think of archaeology you generally think of nonfiction, but one of my favorite books on this topic, Kokopelli's Flute by Will Hobbs is a fantasy book.
In my "former life" I was a middle school librarian, and one of the great joys of that job was the opportunity to meet incredible authors who became friends.  I am proud to list Will Hobbs and his wife Jean among them. 
Several teachers at my school were using Will's novels in their classrooms, so I invited him to speak to the students.  A former language arts teacher, Will was right at home, and the middle schoolers were immediately drawn to his easy-going style…and they loved his books.
When Kokopelli's Flute was published, I was fascinated because Will generally writes about outdoor adventures, many of which he had shared with nieces and nephews.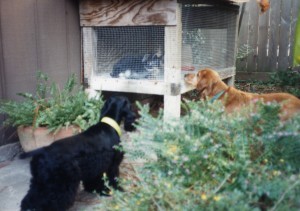 My dog Nanny on the right
The cover of the first edition of Kokopelli's Flute featured a picture of Tepary Jones, the main character, playing a flute.  However, Tep's golden retriever, Dusty, did not appear on the cover – even through Dusty had a significant role in the book. 
At that time, our family had the most wonderful golden retriever, Nanny, so Nanny "wrote" a book review that I sent to Will.  The gist of the review was that Nanny loved the book, but felt slighted that Dusty, who plays such a significant role in the book, was not featured on the cover.  The next time Will visited my school I took him to my house to be photographed with Nanny.  Ironically, when I began research for this article I discovered that the cover of the paperback edition features both Tep and Dusty.  Authors tell me that they have no input into the covers of their books, but seeing the picture brought back special memories!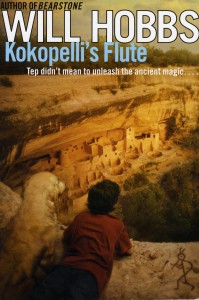 The cover of Kokopelli's Flute,
reproduced here with permission.
In Kokopelli's Flute, Tepary Jones and his golden retriever Dusty are camping out at the Picture House, an ancient Anasazi cliff dwelling not far from his father's seed farm in northern New Mexico, to view a total eclipse of the moon when they encounter pothunters. After scaring them away, Tep cannot resist taking the small eagle bone flute the thieves left behind.  Playing the ancient flute is the beginning of a fascinating story, for Tep triggers his gift as a changeling, and each night after dark, he becomes a pack rat.
Tep's parents are scientists who have taught their son the joys of nature and an appreciation of the history that surrounds them.  It is very easy to like this family who are so devoted to each other.
As readers become involved in the story they suspend disbelief, so the fantasy works—especially when a mysterious stranger arrives at the farm.  Kokopelli's Flute has a strong environmental message and readers will remember Tep's and Dusty's special relationship long after the book is closed.
Will Hobbs is the author of seventeen novels for upper elementary, middle school and young adult readers, as well as two picture book stories. Seven of his novels, Bearstone, Downriver, The Big Wander, Beardance, Far North, The Maze, and Jason's Gold, were named Best Books for Young Adults by the American Library Association. ALA also named Far North and Downriver to their list of the 100 Best Young Adult Books of the Twentieth Century. Ghost Canoe received the Edgar Allan Poe Award in l998 for Best Young Adult Mystery. Will's books have won many other awards, including the California Young Reader Medal, the Western Writers of America Spur Award, the Mountains and Plains Booksellers Award, the Colorado Book Award, and nominations to state award lists in over thirty states.
Other books by Will Hobbs:  Changes in Latitudes (1988), Bearstone (l989), Downriver (l991), The Big Wander (l992), Beardance (l993), Far North (l996), Ghost Canoe (l997), River Thunder (l997), The Maze (l998), Jason's Gold (l999), Down the Yukon (2001), Wild Man Island (2002), Jackie's Wild Seattle (2003), Leaving Protection (2004), Crossing the Wire (2006), Go Big or Go Home (2008), and picture books Beardream (l997), Howling Hill (l998) .
You can get to know Will Hobbs better by reading the questions and answers posted on his Web site.