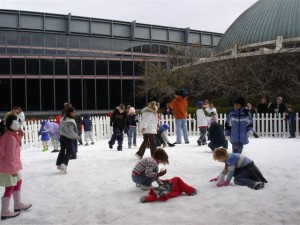 What's white and weights 80,000 lbs.? Snow. In Houston. And no, this isn't some strange and obscure meteorilogical event!
Snow Flurry is an annual event held at the HMNS to celebrate the holiday spirit and give Houston kids the opportunity of a lifetime: to play in the snow without having to take that long car trip with Mom and Dad. We will have 80,000 lbs. of snow separated into two sections – one for kids ages 5 and under and another for kids ages 6 – 10.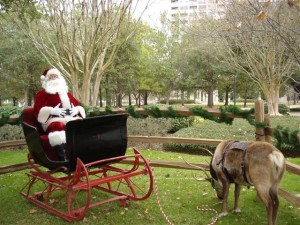 This year, you don't have to wait in line for the snow! Your ticket is timed so you can get to play in the snow without standing in line, just arrive 5 minutes before your time is called to wait for your turn. While you're waiting for your turn in the snow, go see Santa and Prancer, the reindeer, who will be listening to kids' Christmas wishes all day long. Or you can walk around the Museum and participate in all kinds of holiday crafts! Get a glimpse of Prancer the reindeer at our sneak-peak holiday website, The 12 Days of HMNS.
Snow Flurry is a ton of fun and with several thousand kids hopping into the snow every year, we are sure this event will be packed so buy your tickets early! $3 members, $5 non-members. I'm looking forward to seeing you from 10am – 4pm on December 6th!