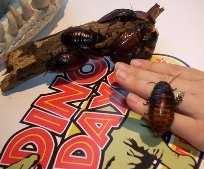 Frances and I were asked if we would set up a living fossils table for the HMNS's annual Dino Days celebration that took place here last week. Not having had any history or paleontology classes I was a little clueless as to which of our living animals would fit into the category of living fossils, other than our alligator.
We did some research and what we read lead us in several directions for what it means to be a living fossil. Some animals, like the echidna and platypus, are nicknamed living fossils because they exhibit "primitive" characteristics – like oviparity, or egg-laying, in mammals. The overall consensus is that a living fossil is an organism that originally lived during the time of the dinosaurs (or even predates them), has remained unchanged morphologically and appears the same as a species otherwise only known from the fossil record, has no close living relatives and has survived major extinction events.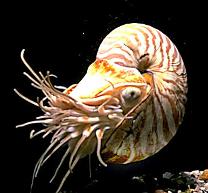 There are several examples that fit this description: the crocodilians, horseshoe crabs, turtles, opossums, salamanders, roaches, millipedes, dragonflies, and the nautilus. These are some of the critters we have in our collection and you can also add ferns, ginkgos, gar fish and the coelacanth to the list. There remains a healthy debate over which plants or animals can and should be included. I have included some pictures of our fossils, both living and non-living at the end of this entry.
All in all, we had a great time in sharing our casts, skins, skulls and live animals with everyone who came up to the table during Dino Days. Hope to see you there next November!