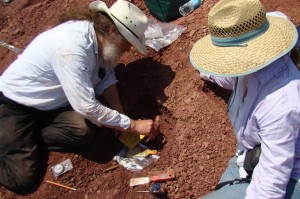 That's all folks: digging's done for this year.
For the past week and a half, the HMNS paleontology team – led by Dr. Robert Bakker – has been back in Seymour, TX, digging for Dimetrodon at a site they've now been working for several years. (You can read more of what's been found already in our daily blog from the field in 2007). Today, they said goodbye to the site for several months, after leaving it covered and safe for the coming winter weather, and pulling out a ton (possibly literally) of new material to study and prepare until then.
David Temple – our associate curator of paleontology and a one of our BEYONDbones bloggers– provides this series' farewell podcast with a wrapup of their discoveries – and a review of the local cuisine.
Never fear! If you miss the daily update, stop by the museum – members of the team and Museum volunteers often work to preserve these fossils in public areas, like the Paleontology Hall or the Dinosaur Mummy CSI exhibition. You can also check out earlier updates from this dig trip:
Day One: Live from the Fossil Field
Day Two: The Smoking Gun
Day Three: New Discoveries
Day Four: Secondontosaurus Found?
Day Five: Mad Max
Day Six: Fossil Prep
Day Seven: Trench Warfare
Day Eight and Nine: Two for One!