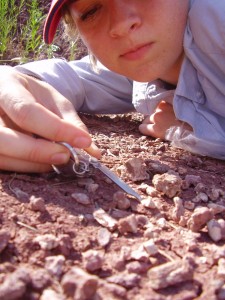 Kim Beck, a regular excavator with the
HMNS team, looks for fossils eroding out
at the surface.
Our paleontology team – led by Dr. Robert Bakker – is back in Seymour, TX this week, digging for Dimetrodon at a site they've now been working for several years. (You can read more of what's been found already in our daily blog from the field in 2007).
Listen to the podcast below to hear David Temple – our associate curator of paleontology and a one of our BEYONDbones bloggers – fill us in on the progress from yesterday – including the discovery of "The Smoking Gun," and evidence of cannibal Dimetrodon – as well as the history of the site the team is digging on, which is so rich that scientists have been pulling Dimetrodon and other Permian-era species out of the ground there since 1877.
If you're a paleo expert, you can skip this paragraph and head straight to the update – but David mentions a few things that not everyone is familiar with: "matrix" is a term paleontologists use to describe the material that surrounds fossils. "Wet screening" is the process of putting matrix on a small-weave screen and running water through it to find any tiny fossils that might have been missed. And, Dimetrodon grandis is the very largest species of Dimetrodon ever found – making it the biggest, baddest predator of the Permian.
Our field team will be updating us on progress at the site every day this week – so check out yesterday's update from Kat Havens, another of our excavators – and come back tomorrow for more from the fossil field!