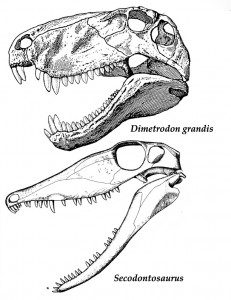 (c)Dr. Robert T. Bakker
Our paleontology team – led by Dr. Robert Bakker – is back in Seymour, TX this week, digging for Dimetrodon at a site they've now been working for several years. (You can read more of what's been found already in our daily blog from the field in 2007).
Chris Flis sent us another update today – on a huge possible find. The team thinks they may have found the pelvis – and possibly a full skeleton – of a Secodontosaurus. The fox-faced finback – so called because of its slender muzzle – could easily be confused for a Dimetrodon – but they are actually quite different.
If they have in fact found a Seco – it will be the first that has been uncovered since 1936 (with the exception of HMNS' Nancy Bowen's discovery of an isolated scapula from this species on one of the team's earlier digs). With today's more complete digging methods, this find would give us the opportunity to learn much more about this rare species from the contextual information being preserved around the fossil.
Click the podcast below for more updates from yesterday's dig:
More from the field tomorrow! Until then, you can also check out earlier updates from this dig trip:
Day One: Live from the Fossil Field
Day Two: The Smoking Gun
Day Three: New Discoveries