Over the millennia people have been collecting/hoarding/hanging onto objects for a variety of reasons, mostly, I suspect, because those items were pleasing to them in some fashion.  I'm certainly not an anthropologist or an interior designer, but I'm willing to bet that a curio cabinet wasn't too far behind in furniture invention once the basic bed, table and chair got sorted out. And curio cabinets of natural wonders were the beginnings of privately-owned natural history collections. 
Of course, people wanted to show off their cabinets of wonders; plus they were curious and wanted to see other people's cabinets of wonders. Next thing you know there were exhibitions; then, folks got all high-minded about civic duty and education, and voila!  Museums!  Well, that's the really, really condensed version.  But I do have a case study for you.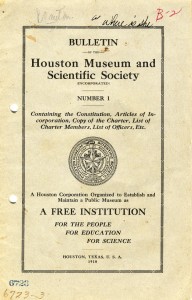 In 1909, twenty fine, upstanding pillars of the Houston community became charter members of the newly incorporated Houston Museum and Scientific Society, "With the purpose of obtaining for Houston a free public museum of natural history…"  That last bit comes from the first bulletin of the Society printed in January 1910.  The first four pages of the bulletin entail the mission and goals of the Society and are followed by the constitution and by-laws.  But it's those first few pages that hold the most interest.
Reading this document, written nearly a century ago by charter member Moritz Tiling (listed as Teacher and Journalist), you get both a glimpse of a past era and a commentary on the state of American museums that is startlingly contemporary.  Tiling pointed out that European museums were "…erected by the different governments and are supported by liberal education funds and endowments; but in the United States the existing museums of art and natural history are the result of the untiring labors of men interested in scientific research and of the liberality and the munificence of public-spirited and wealthy individuals." 
Today, in (almost) 2009 we would say "the untiring labors of women and men," but there's no doubt that nearly all museums in this country still rely on generous donors.  Tiling returns to the topic of generous wealthy donors several times, but also enlists the aid of regular citizens.  (Houston history factoid here: by 1910, per capita Houston bank deposits were $370 while the national average was $194.)  "The financial assistance of all progressive people of Houston and Harris County, ladies as well as gentlemen (emphasis mine), and the co-operation of the press is respectfully solicited.  All liberal-minded citizens of our city and county, with a generous heart and interest in the advancement of science, should participate in the noble undertaking."  While it's interesting to note that the words "progressive" and "liberal-minded" are, unfortunately, currently politically tinged, the sentiment that it's the assistance of Houstonians and regular patrons who enable the science museum still holds true.  We can't do it without you!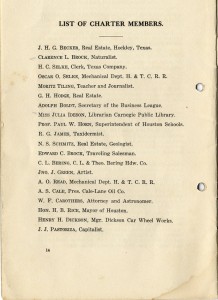 The charter members themselves were a mixed lot of "energetic and well-known business men and citizens of Harris county(sic)".  Their names are not listed alphabetically in the bulletin but in a seemingly random order.  It's unknowable if the members chose the description of their professions or if the era itself defined them, but I just have to share some of them, along with a comment or two.  You might recognize some of the names.  W.F. Carothers, Attorney and Astronomer; J.J. Pastoriza, Capitalist; N.S. Schmitz, Real Estate, Geologist; Jno. J. Green, Artist (haven't a clue what Jno. is an abbreviation for); C.L. & Theo Bering, Bering Hardware Store; Henry H. Dickson, Manager Dickson Car Wheel Works (the first automobile arrived in Houston in April 1901); R.G. James, Taxidermist (bet he came in handy for future collections); Clarence L. Brock, Naturalist (later, he also ran the zoo); Edward Brock, Traveling Salesman.  The lone female charter member was Miss Julia Ideson, Librarian Carnegie Public Library.  Yes, that Julia Ideson, as in the Julia Ideson Library building downtown.  Other members included Mayor Rice, the County Attorney, and the Superintendent of Houston Schools.  Not surprising for 1909, all members were of European descent.
There were mundane topics that had to be covered such as where, what and how much.  Mayor Rice offered space in the new city auditorium, then located on the spot where Jones Hall now resides. Later, the small exhibits would be housed in the downtown library, thanks no doubt to Julia Ideson.  A general list of specimens to be collected and exhibited were named but the Society also announced its first loan, charter member J.H.G. Becker's collection of specimens and artifacts from "German East Africa."  In a future post I'll delve into some of our Museum's first collections.  Society Members annual dues were $2.00, discounted to $1.00 for students but strictly "payable in advance."
However, the mission set forth by the Society is remarkably prescient.  The Society saw its purpose as "…a strictly educational organization for the advancement of science, for the people, and for public recreation."  Its goal laid down as "…the establishing and maintaining of a public museum and library of natural science and history; of encouraging and developing the study of natural science; of advancing the general knowledge of kindred subjects, and to that end of furnishing popular instruction and recreation." 
Folks, that's pretty darn near the current HMNS mission statement.  Just think, twenty citizens with a clear vision of how they wanted to share the wonders of natural sciences with the people of Houston and Harris County.  One hundred years on, it's still what we aim to accomplish and what we're doing every day.
– Donna Meadows
  Associate Registrar, Acquisitions
Many thanks to HoustonHistory.com for the cool history facts!