Thank you, thank you, thank you to everyone who entered the Draw A Dino Contest, in honor of the world premiere exhibition of Leonardo, the mummified dinosaur in Dinosaur Mummy CSI: Cretaceous Science Investigation.
We were totally amazed and overwhelmed by the fabulous dinosaur drawings that poured through our doors throughout the contest. The creativity – and scientific understanding – of our entrants is astounding.
The contest was judged by HMNS curator of paleontology Dr. Robert T Bakker, and winners were chosen in two categories: Scientific Accuracy and Artistic Effect. It was such a tough decision – and we were so impressed with every entry – that we'll be posting a slideshow where they can all be seen – I hope you'll come back soon to check them out – there are some very cool kids out there!
And the winners are…
Scientific Accuracy
Dr. Bakker picked Todd Blackmon's drawing in the category of scientific accuracy because Todd did something very scientific – he labeled his drawing, pointing out the anatomy of T. rex. This is something Dr. Bakker himself always does in his drawings, because it helps people to learn and remember.
Here's what Todd had to say about his winning illustration:
"My reason for entering the contest was to have fun. I wanted to follow the rules of the contest and draw T-Rex and point out his features. It was very challenging to look at the huge dinosaur and make him fit on a piece of paper."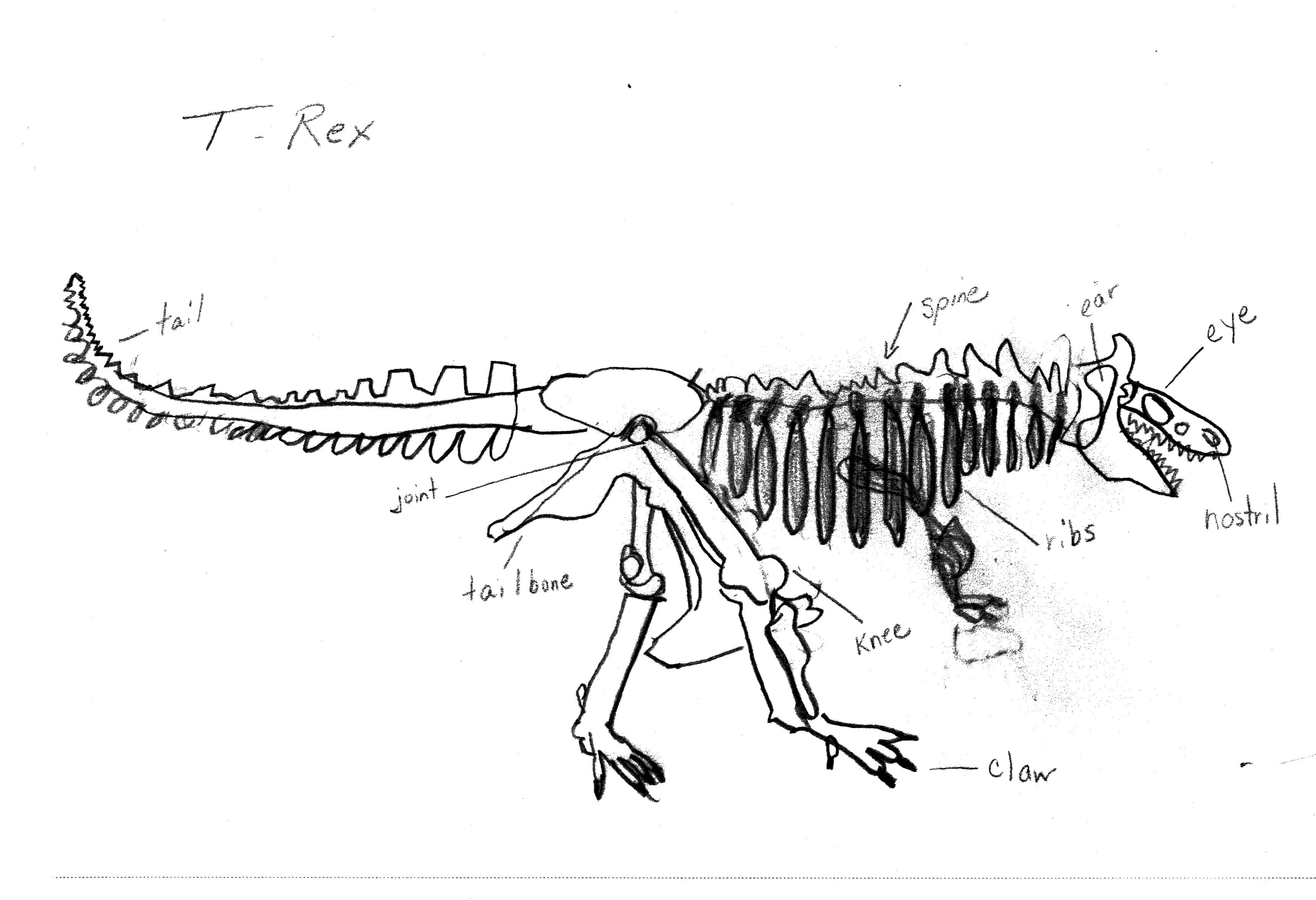 T. rex by Todd Blackmon
Artistic Effect
Dr. Bakker chose Myria Perez' drawing for the category of Artistic Effect because of the compelling scene she created – a scene that's both emotionally compelling and based on current scientific understanding of the circumstances surrounding Leonardo's death, from the hypothesized flooding event to the cracks that can be seen in Leonardo's abdomen today. If you visit the Dino Mummy exhibit, you'll see just how accurate Myria's artistic vision truly is.
Here's what Myria had to say about her creation:
"Creating "Leonardo's Death"
Creating Leonardo's death was a thrilling experience!  I learned so much about his lifestyle.  Before I started the final drawing, I decided to have an action scene because I am certain Leonardo's last moments were filled with action.  I wanted to draw a picture that showed that action and a lot of detail. 
The first sketch I did of Leonardo was just an idea based on what I could remember about the exhibit and how he died with the wound.  After the initial sketch, I went online to find pictures of Brachylophosaur and thought about different positions I could place Leonardo in.  I decided on a pose for him: slightly tipping, an open mouth out towards the sky, and his tail curved around the wound a Daspletosaurus gave his side. 
Leonardo's last moments probably included rain and a flood to perfectly preserve him as a mummy.  I decided to have the water up almost to his knee, but with enough room to let you see the details of his wound.  One of my favorite parts about drawing this scene was there was a lot of splashing and action with the blood trickling down and the rain.  The blood from his side oozes from his side and then splashes in the water. 
I was able to show this by shading dark to light under the water ripples so it would look like it faded.  I found it challenging to show the rain hitting Leonardo and sliding down his body off into the water after being blown by the wind.  The part of the drawing that took me the longest was all of the small hard to see scales over the entire body of Leonardo.  The scales are larger on the front of his legs because he would have needed better protection to walk through the brush. 
Creating  "Leonardo's Death" is a drawing experience that has changed how I will look at my future drawings.  "Leonardo's Death" has been my most successful drawing so far!"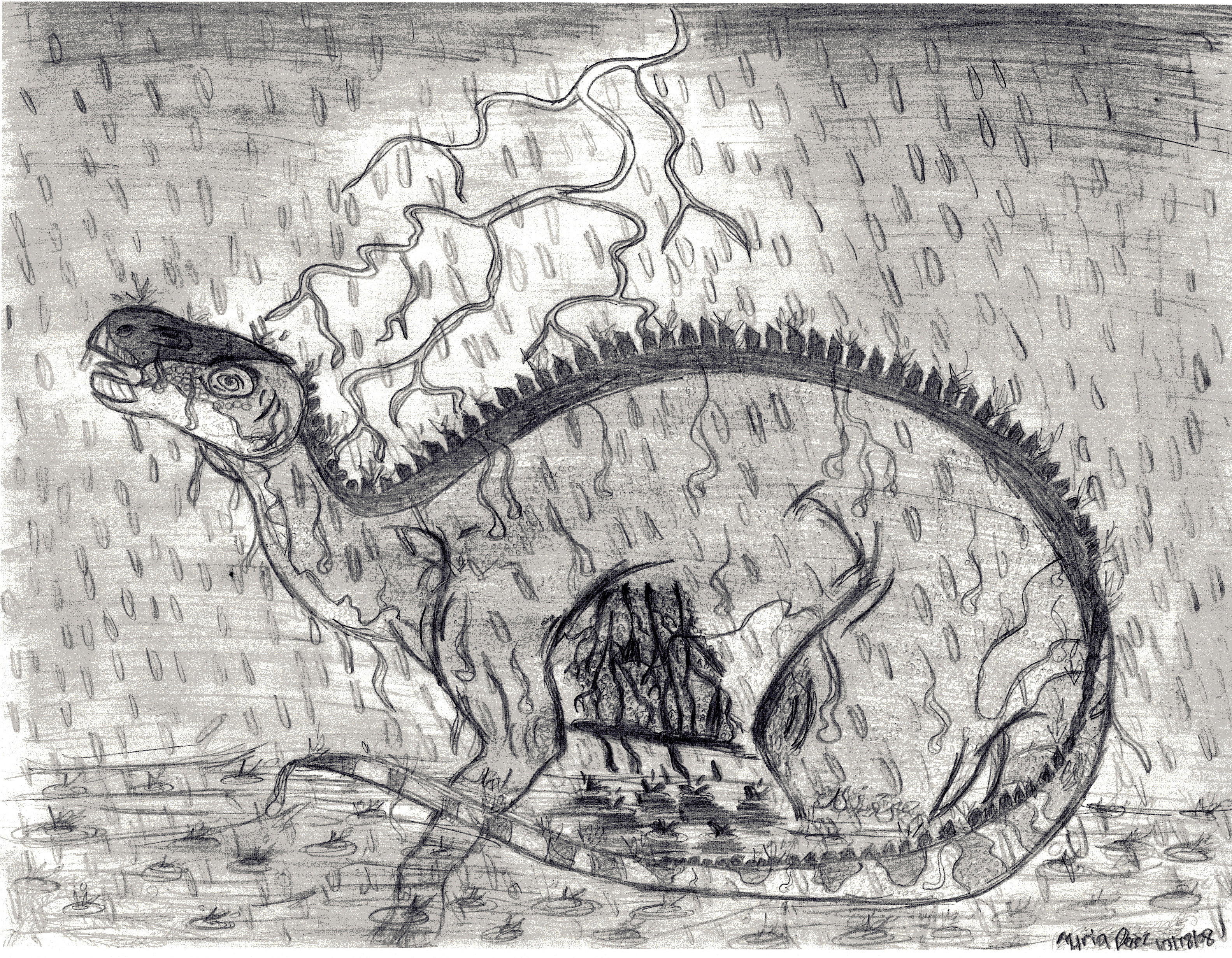 "Leonardo's Death" by Myria Perez
Congratulations to Myria and Todd! They'll both receive $200 gift certificates to Texas Art Supply – keep drawing! – and a signed dinosaur drawing by Dr. Bakker himself. And, thank you to everyone else who entered – we'll be posting a slideshow of all their creative, fun and thoughtful drawings here soon.