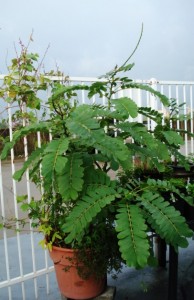 Butterflies will lay eggs on host
plants, like this Cassia alata. But,
how do you protect the caterpillars
that emerge from hungry predators
in your garden?
This week, I received a phone call from a museum patron who was concerned about wasps capturing her Gulf fritillary caterpillars from her Passionflower vine in her butterfly habitat and flying off with them. Because her host plant was a vine, it was not possible to protect the caterpillars from predatory attack; she would just have to allow nature to take its natural course.
There are however, a few methods we can suggest to you for protecting your caterpillars from predators. One method is to drape bridal-tulle (fine mesh) over the existing host plant within your garden. This tulle can be supported by a frame such as a tomato cage. Stitch up the sides of the mesh with a hem stitch so that the stitches are touching one another this way, the predators have no entrance. Along the bottom edge of the tulle you can pierce v-shaped wires into the soil. You can make these with an old wire hanger and a wire cutter. You should secure the bottom edge of the tulle by inserting it into the soil to a depth of about 1-2". Wasps and Yellow Jackets will try to enter the enclosure through the bottom if they know a food source exists.
Another method of protecting caterpillars from predators is to remove the caterpillars from the host plant and place the caterpillar and its food source into a secure container with air holes or a screen or tulle covering for air circulation. You can use and old aquarium, pickle jar, Rubbermaid container etc. as a temporary home. Place a clean paper towel at the base of the container each day. You do not want to leave the frass (waste) in the container because it will cause mold to grow.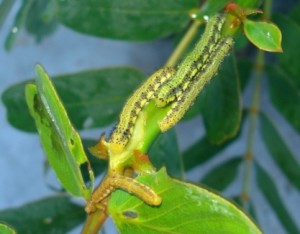 In this photo, caterpillars of the Cloudless Sulphur,
Phoebis sennae species feed on their host plant, Cassia
alata. I always find it amazing that the butterflies
find their way up to the top of the parking garage
in search of specific host plants to lay their eggs on.
Today, I removed 12-15, caterpillars along with stems of fresh food and placed them into a container with holes in the top. Each day, I will spray the foliage within the container, put in fresh food and change out the paper towel. When the caterpillars are molting, they will remain stationary for 4-8 hours. Once they shed their skin, they are very fragile. It is best not to disturb them at this time. Some caterpillars crawl off and rest upon the side of the container for this period of time before and after molting. You don't want to place your container in a sunny window because this will cause the interior temperature to rise to an uncomfortable level. If you have fine mesh on the top though, that is OK. In that case, you should mist more than two times a day with a spray bottle of water.
Finally, whether or not you have housed your caterpillars in the garden or in a container, they will soon pupate. Twelve to twenty-four hours before the butterfly emerges from the chrysalis you will see the wing coloration of the species just under the covering of the chrysalis. When the butterfly does emerge it has to spread its wings to dry. Do not disturb it at this time, it is fragile. Touching it could possibly cause it to be deformed and you wouldn't want that.
In another twelve to twenty-four hours you can safely release it to your garden where it will immediately find a nectar source to feed upon. If it is cloudy and raining, the butterfly will roost under a stem or a leaf until the temperature reaches 78 degrees or above. Once its body temperature warms up it should take flight.
Upon flight it will seek out its host and nectar sources so be sure to have plenty on hand in your garden for your new friends. I hope this sheds a little light on how you might save some of your beautiful caterpillars from predation in the future. Protecting them with an artificial environment is an easy thing to do.