I have been associated with the Museum in some form or fashion for over 10 years. Not only do I work for the Museum, I live with and am married to the Museum as well.  During this time I generally get asked three questions.  The first question is always, "What is it like to be married to / live with David?" My husband David Temple is the Associate Curator of Paleontology.  If you don't like rocks and fossils, he will be around to convert you shortly.
People assume that we have some crazy life, but mostly we are just really busy. We truly enjoy being at our house (both at the same time, which makes it more difficult). I like to think that our house is styled after the Victorian period.  Dave likes to think of it as Neo Adams.
We get the weirdest questions about our house. As if we wouldn't have all the standards that other houses have. So to prove that this is a fact, I have some pictures. (The house is true. Only the names have been changed to protect the innocent.)
We will begin with the kitchen. To prove that we are normal, here is our fridge. Like everyone else, we tack important bits of info to the fridge so they don't get lost.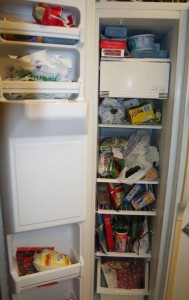 Like everyone else, we have scorpion and cobra whiskey on the fridge stored neatly under a Thai head dress. We have the odd assortment of frozen foods, like butterfly wings. And dead animals.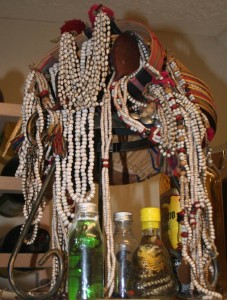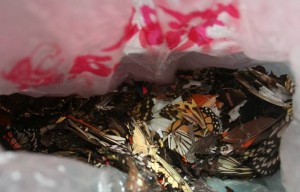 We like coffee in the morning. And we keep our pets next to the coffee maker on the counter.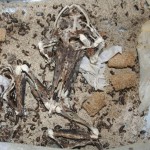 As for the Dermestid Beetles.  They are actually my pet project.
We are trying to make skeleton mounts for the Education Collections and  I thought that the beetles might help with one or two dried frogs we had managed to acquire. This is about a month into the process.  The frog in this case had been mummified for about a year before giving him to the beetles.  A smaller, fresher frog, only took about two weeks.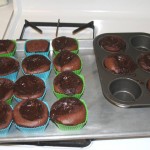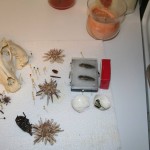 I love baking cupcakes. Believe me, there was talk of an intervention. Dave loves to cook.  The kitchen is the central area in our house, as it is for most people.  We often have a variety of projects beside baking or cooking though.
In our kitchen, we have a hutch where we keep cook books. Cook books are safe and normal, I am sure you would agree. Dave collects cookbooks of various cultures and time periods and cuisines.
We have a room in the house that started off as the study/office, but it wasn't widely used as most of the activities in this room ended up in the kitchen anyway. SO, I claimed it as my sewing room. Quilting often keeps me from killing my family. It is a great creative outlet and I am surrounded by inspiration.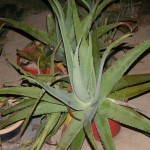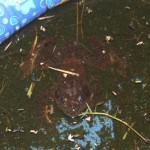 Our back yard is often neglected, but we do seem to have an abundance of Aloe Vera for some reason.  Occasionally we water them and call it gardening. Directly next to the Aloe is my bucket o' bones.  If you have read my previous posts on the Museum's blog, you will be happy to note that the bones have made it inside and are being sorted. Plus, there is the bullfrog rescue operation Dave has started.
The second question I am always asked is, "What is it like to work at the Museum?"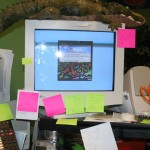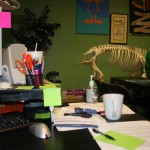 The Museum is a cruel mistress.  You work long hours on weird projects, often on the weekends and you love every minute of it. The Museum is home.  Your house is where you keep your stuff when not at home. Here are a few shots of my office so you can envision the crazy. Note the Tapir skeleton in the background. 
The third question I am asked is, "You must learn a lot working at a Museum, right?"  You would think so, but yet I seem to be filled with only useless information.  I think that I might have a shot on Jeopardy. So, what have I learned working here?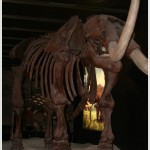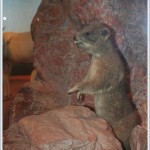 I know that the Rock Hyrax's closest relative is the elephant.
 That Thomas Jefferson fully believed that Lewis and Clark would find a live mammoth when they mapped the west.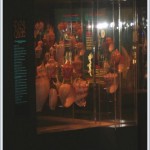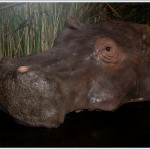 That the cone snail is one of the most deadly animals in the world, but is also used for pain medication. 
That it is better to have a hippo head than no hippo at all.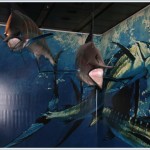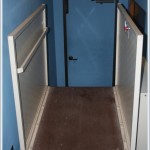 That the First Lady can't walk under swordfish
 That the admin elevator is the exact right size for a tapir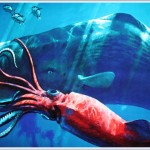 That the giant squid has the largest eyeball of any animal
 And that it isn't unusual to find your place of work altered on a daily basis.
But most importantly I have learned that without the support of the Museum volunteers, our patrons and the Houston community, the Museum could not provide the quality exhibits and programming that we do!