Well, it's that time of year again… we have started to get Attacus atlas, aka Atlas moths, YEAH!!!!  This is always an exciting time for me because I get to tell everyone who keeps asking me that they are finally here!  Last week, I received 60 atlas moth cocoons from Malaysia and the Philippines.  Unlike the butterflies we receive on a regular basis that all emerge within a few weeks, the atlas moths should be emerging over a few months, so we should have them for a while. 
The Atlas moth belongs to the family of giant silk moths, Saturniidae. They are considered to be the largest moths in the world in terms of wing surface area.  These impressive moths can only be found naturally in Southeast Asia, where they are very common. Their name comes from either the Titan of Greek mythology or from the striking pattern on their wings, which resembles a map.  If you look at the tips of the forewings they resemble a snakes head, which makes for great predator protection.
The females are significantly larger than the males, especially their abdomen because she has to lay a bunch of eggs, which are already developed and ready to be fertilized.  The males have larger, bushier antennae, in order to detect female pheromones.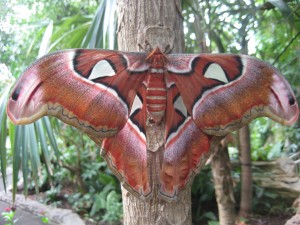 The females
are larger and have bigger abdomens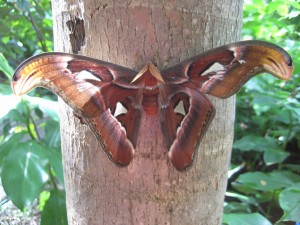 The males are smaller and have longer antennae
Each moth starts it's life as a beautiful, emerald-colored caterpillar. The larvae feed on a wide variety of food plants, and may even wander from one to another.  As it gets bigger it developes a more waxy, light-white-ish green coloration.  It then spins a silken cocoon to protect itself and pupates inside (This is different from butterflies who develop inside a chrysalis, not a cocoon).  The adults, as in other Saturniids, have no mouth parts whatsoever, so they cannot feed. They survive off of fat reserves they build up as caterpillars.
Moths fly at night, so you may see these large moths resting on trees in the Butterfly Center during the day, paying no attention to the butterflies fluttering all around them.  I try really hard each time a moth emerges to place it in a very obvious place so people can see them.  Many people think they are fake because they sit so still, but now you know they are not!
Some other moths that belong in the Saturniidae family that you can find around here include the cecropia moth (Hyalophora cecropia), polyphemus moth (Antheraea polyphemus), and the luna moth (Actias luna).  These moths aren't as big as the atlas moth, but they are big when compared to other moths and butterflies in Texas. 
I hope you get a chance to stop off and see our wonderful giants and keep a look out for the native moths, they are a wonder to see too!