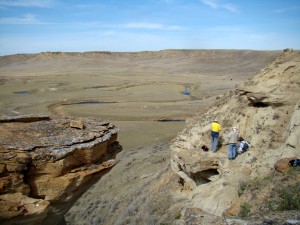 Ack! Paleontologists often take their lives in their
hands to get to fossils. In this shot, they're looking
at some T. rex fossils on a two-foot ledge that's
hanging over a 100-foot drop.
Thanks to Hurricane Ike, most of us were still without power when the Discovery Channel aired their documentary about Leonardo, the mummified dinosaur.
Luckily, a local ABC news crew came along on our recent trip to Malta, MT (it's quite a trek) to see Leonardo, the mummy dinosaur, and venture out to the very remote site (about 2 hours outside a town that is 4 hours from the closest city) where this famous dinosaur was discovered.
It was an amazing experience – and ABC captured it all for their newest 30-minute special, Beyond the Bones: Dinosaur Mummy CSI, airing tomorrow night – Saturday, Oct 4 – after the 10 p.m. news. They braved the elements, trekked to the top of the highest cliffs, risked the ire of some very enthusiastic cows – and even hung outside of vehicles to bring you the story of an extraordinary 77-million year old duckbill dinosaur. If it sounds dramatic – that's because it was.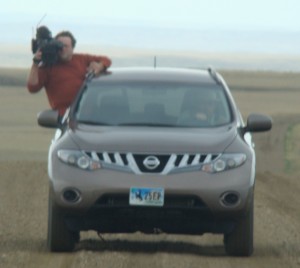 Now that's commitment.
As a photo, this is kind ofimpressive – in the sense that nowadays, anyone who doesn't wear a seatbelt is perceived as a crazed loon. But I was in the car in front of this one – and what you don't see is the foot-thick mud we're fish-tailing through, the 200-foot cliff that's only slightly to the left of this frame, the forty-degree incline of the hill and the pouring rain that's obscuring all of the drivers' vision. I felt like a crazed loon just for being there, and I was buckled in, windows up with a white-knuckle grip on the hang-bar. Mike (holding the camera) is just crazy-awesome – and I can't wait to see the shots he got.
Art Rascon interviews paleontologist Mark Thompson,
who was on the dig that uncovered Leonardo.
The rain and the mud were so bad that only extremely tough vehicles could make it through to the site where Leonardo was discovered – which is located in one of many, many almost unbelievably gorgeous ravines that – out of nowhere – just fall away from solid ground. (It's a good idea to watch where you're going.)
It's actually pretty tough to get there in normal conditions – so, our transport options were limited. When Mark, one of the paleontologists who was there when Leonardo was uncovered, jumped in the back to ride down to the site – Art and Mike rode with him to get an interview along the way. (Notice I am taking this photo from the safety of the car's interior). This shot really does not do justice to the madness of trying to avoid being thrown from a vehicle that's descending 40 degree, unpaved inclines littered with boulders – in the rain.
You can get in on the action – which covers everything from Leonardo's life 77 million years ago and the site of his unexpected discovery in Montana to behind-the-scenes shots of the exhibit in Houston and the second hurricane Leonardo experienced – when ABC airs the special this Saturday night. Tune in – and come by to see Leonardo for yourself; he's in Houston through Jan. 11, 2009.