Our science museum is lucky enough to have talented and enthusiastic people who visit us every day – wandering our halls, grounds and satellite facilities, capturing images of the wonders on display here that rival the beauty of the subjects themselves. Thankfully, many share their photos with us and everyone else in our HMNS Flickr group – and we're posting our favorites here, once a month. (You can check out the first two picks: "Leaf's Eye View," by AlphaTangoBravo and "Rice Paper Butterfly" by emmiegrn.)
There are so many stunning images in the pool, it's always tough to choose. This month's pick, "Museum Reflected" by bryan.dawson is a striking portrayal of something most people don't examine too closely – the globe on the tip of our sundial. Here's what bryan.dawson had to say about his shot – which includes an interesting perspective on composition:
"It was only recently that I even realized that you could take photos in most of the museum. It wasn't until one of my Flickr groups, Assignment Houston, had an assignment at the museum that I even considered taking my camera along. I missed the big group gathering (you might have seen it mentioned on the HMNS blog as well), so I went on my own later.
I think I drove my fiancee mad since I stopped every few feet to take a photo. This particular photo was one of the very last ones I took that day. My fiancee wanted to look around the gift shop, so I went outside to snap a few. The clouds were blocking the sun just enough to send out some tendrils of light. It was a beautiful sight, but I knew it would look better if there was something in the foreground. That's when I noticed that the ball on top of the sundial was mirrored and you could see the museum reflected back in it.
That was it … I lined it up, and what you see is the result. I tried lots of different post-processing on it before deciding upon a monotone coloring. I like to think it lets you focus on the composition instead of being distracted by the colors."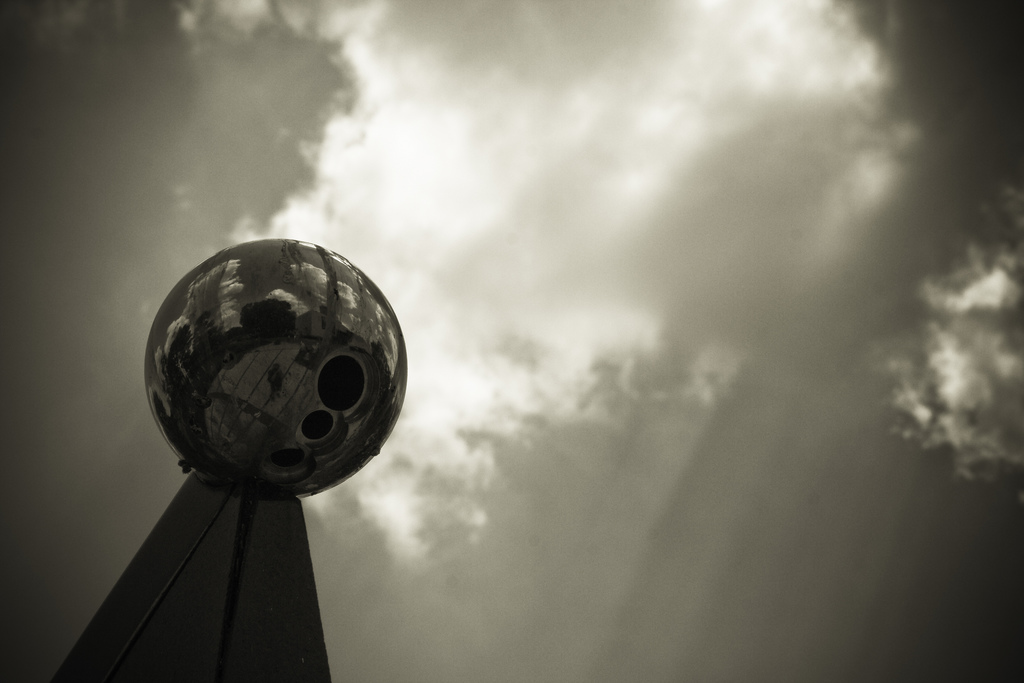 Many thanks to bryan.dawson for allowing us to share his beautiful photograph. We hope this and all the other amazing photography in our group on Flickr will inspire you to bring a camera along next time you're here – and show us what you see.