For this blog, I thought I would share with you and answer some of the most common questions we get here in the Cockrell Butterfly Center, specifically related to butterflies.  The question that we get asked the most, by far, is:
"How long do the butterflies live?"
Well, typically they live in our center for about two weeks, but there are a few exceptions.  The longwing butterflies, in the genus Heliconius, can live for months.  They not only feed on nectar, but also pollen.  They extract very nutritious amino acids from the pollen, which allows them to live longer.  Another butterfly that seems to live a long time is the rice paper, Idea leuconoe.    
"How many butterflies do you have in here?"
There are anywhere from 1,500 to 2,000 butterflies flying through the Butterfly Center at a time.  On really, bright sunshine-y days when the butterflies are very happy it seems like there are way more than 2,000 and on gloomy cloudy days the butterflies hide and it seems like there are fewer than 1,500.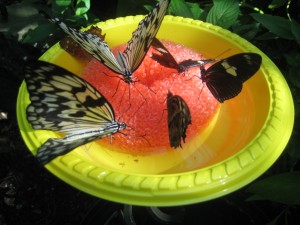 "What is that liquid in the red bowls?"
That is our butterfly feed.  We cannot always guarantee fresh nectar from blooming flowers to the butterflies, so we supplement them with this instead.  It is a mixture of 4 parts water to 1 part sugar with a cap full of amino fuel.  Many people ask me if they can make a similar set up to put in their yard.  Absolutely! But, do be prepared for ants and bees to take advantage of the nectar as well as the butterflies.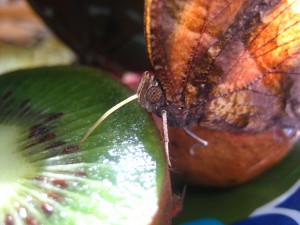 "Why do you have fruit and nectar for the butterflies?"
Some butterflies are nectar feeders and others are not.  Most of the butterflies that do not drink nectar are fruit feeders.  We like to give our butterflies a variety of tropical fruits, including kiwi, papaya, mango, cantalope and honeydew.  They especially love super ripe black bananas and on occasion they get starfruit, which we pick from our tree in the butterfly center. 
Some male butterflies, especially swallowtails and sulphurs, will do what we call "puddling."  They are attracted to salts and amino acids in mud and will actually drink from it, sometimes in very large numbers called a "puddle club."  It is thought that the males benefit from the salts, increasing their reproductive success – but of course it is not known for sure and scientist are still trying to work out the reason. 
Some butterflies are also attracted to tree sap, carrion, and dung.  Sometimes our iguana, Stretch, will leave some excrement behind and – low and behold – a butterfly will land on it and start drinking.  We have even thought about collecting some iguana poop and putting it in a huge pile for the butterflies – but we eventually decided against that.   
"Do the butterflies breed in here?"
The butterflies are free to mate but due to USDA regulations we are not allowed to provide them with host plants.  Female butterflies will only lay eggs on a specific plant that her caterpillars can eat, so we have to make sure that no host plants are in the butterfly center.  This involved alot of work when we first opened because we have so many species of butterflies and they do not all feed on the same plant. 
The reasoning behind this policy is that the USDA believes that the escape potential of a caterpillar is greater than that of an adult butterfly; if the butterflies were allowed to lay eggs, then there would be caterpillars everywhere, and the chance of someone leaving with one on them would be pretty high. 
Another obvious reason that we do not want caterpillars is that they would eat all our beautiful plants.  Now, just because we do not want caterpillars in the butterfly center doesn't mean we do not like them.  Caterpillars are so much fun to have in your garden.  If you plant the correct host plant, you can attract native butterflies to your yard.  You can find a list of host plants that you can plant in Houston by clicking here.
"Why won't that butterfly leave the other one alone?"
The butterflies in this video represent this question (It's not the best quality, so sorry!).  These butterflies are courting.  Although they look like different butterflies, they are subspecies of the same species, Heliconius erato.  The male is flying above the female trying to entice her to be his girlfriend with his wonderful smell.  Sometimes the female is so attractive that two or three males will be courting her.  This behavior can almost always be viewed in the butterfly center – you just have to look for it. 
Another courting behavior that is encountered a lot is two butterflies chasing each other.  They will flutter around each other in circles, resembling a graceful rehearsed dance.  This normally happens in a nice sunny area, so look for it next time you are here.

Well, I hope you enjoyed my question/answer session.  If you have any questions please feel free to ask in the comments and I will be happy to answer!
Want to learn more about butterflies and host plants?
Where do all the butterflies from the Cockrell Center come from?
Learn more about the Luxurious Longwing butterfly.
Read about Suplhur Butterflies.