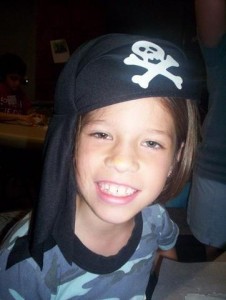 Watch out because there be pirates at the Houston Museum of Natural Science, no, really there are.  As summer comes to a close and the beginning of school approaches, there is a band of brainy pirates lurking and learning in the basement of the Museum. 
Instead of menacing the high seas, these pirates are learning all about the science of the seas,  from building periscopes to making a working compass to constructing a working astrolabe and collecting treasure.  Our pirates also construct a working telescope and periscope and discover how boats float and all about the different parts of a ship, just to name a few things.
On Friday our brainy band of pirates board a land-ship (air-conditioned bus) to head for Galveston Island for a day of fun and adventure.  They tour the Tall Ship Elissa, explore the Texas Sea Port Museum, and even see a film about Galveston's own pirate Jean Lafitte.
Check out these fun pics from camp.  Also, check in and let us know who's your favorite pirate:  Mine is the famous female pirate Anne Bonny.