Congratulations to Graciela Moore, winner of the "What's YOUR Greatest Adventure?" blog contest.  Her touching presentation about the annual Monarch migration to Mexico and stunning visual photographs that accompanied her story amazed our staff. As the winner, she'll receive a $300 gift card to REI – to help her pursue that next great adventure.
Here's how Graciela described her adventure:
My adventure took place in November 2007 in Angangueo, Michoacán, Mexico to visit the over-wintering site of the monarch butterflies. When I was little, my grandmother pulled out a copy of a National Geographic to show me photos of millions of monarchs. I was completely taken by the beautiful orange and black that covered the pages. The images were burned in my memory and I was so impressed that these tiny insects could travel so far. So, I took this trip to celebrate my 30th birthday. It was truly an experience I will never forget!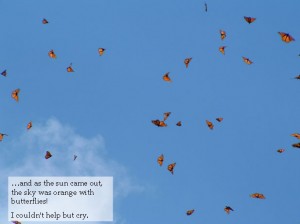 Since I have been back, I have shared my experience with all those that will listen. I express how impressive it is that this migration takes place within just three generations. I also express how concerned I am for the disappearing over-wintering habitat due to logging and the disappearing milkweed in the U.S. so important for their eggs. With the help of these sanctuaries, I take comfort in knowing that there are people making an effort to protect these spots and educate the public.
Go along on her adventure in Graciela's winning entry, I Could Hear The Rain. Click here to view her entry.
Graciela, thank you so much for sharing your story with HMNS – and congratulations on being chosen as the winner of our very first blog contest!