As it happens I work with a lot of water. Salt water, reverse osmosis water, dechlorinated water, and my least favorite category: dirty water.
Shed skin from frogs, lizards, snakes; the weird film that exists inside every water bottle; fish water (salt or fresh – both pungent); and maybe the most heinous ever – dirty aquatic turtle water. Not to mention all of the various types of waste that routinely finds it way in there.
The purpose here is not to gross you out, but to actually talk about some of the more interesting spills that have occurred here at the Museum, either by yours truly or by fellow workers who wish to remain anonymous. Let me just say that I am very fortunate to work here, with all of the wonderful animals and staff. I must also acknowledge the hard-working Housekeeping staff who spend a bit more time than I am sure they would like, cleaning up various spills. So here goes…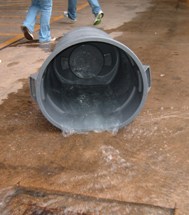 Run Away! Run Away!
How about trying to catch a tipping full 55 gallon wheeled trash can containing dirty piranha water? Wait, there's more! Spilled on opening night of the Frogs exhibit, in the Paleo Hall, minutes before guests would arrive, and seconds before the President of the Museum walked through the hall. That was me.
One bad wheel on a 55 gallon trash can = approximately 200 gallons of water spilled throughout construction in the Frogs exhibit, in the hallway, and over the shoes of at least 4 people. It begs the question how did it keep getting back into rotation?!
More wheeled trash can fun: how about having the wheel catch on the oh-so-slight gap between the elevator and the floor? Thankfully the un-named wore most of the water from the waist down instead of it pouring down to the level below.
How about a 16 cubic foot salt water touch tank splitting a side seam, in a classroom, during Camp. I recall a towel dam trying to contain the rather large puddle. Housekeeping everywhere, buckets and mops at the ready – true unsung heroes.
How about filter malfunctions? Installing a filter under the existing piranha tank (requires a tiny person or gymnast) only to have the valve slip and spray water directly in my face – mmm, piranha poo. A canister filter hose slipping off and spraying water along the wall in a classroom during After Camp. Not once, but twice.
Overpumping and overflowing. Now here is a broad category. This can include clogged overflow boxes and clogged intake tubes. You probably do not want to know with what they might be clogged. It can also include pumping water from one location to another – underestimate the pump speed and voila, cascades. My favorite overflow has happened to me twice – yes, you'd think I would have learned the first time.
Peewee, our alligator, resides in a large metal trough. Imagine putting the hose into the tank, starting the water (just to top it off you understand), and getting distracted. Distracted enough to come in the next day and discover 2 inches of water flooding the Animal Room and a very angry 2 foot long alligator hiding somewhere under a shelving unit. We have floor drains but even they have their limits.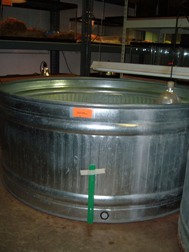 Peewee's Pen: 6ft circle x 2ft tall
One of my favorite Animal Room questions: Why is there a puddle? There are, of course, a multitude of answers some of which I have already listed. The least troublesome but most prevalent answer is the reverse osmosis (RO) sensor slipped. This usually leads to the RO system running all night long thinking the collection barrel is empty, when in truth it is not. I am thankful that the system is not too fast in producing the vital RO water we need daily.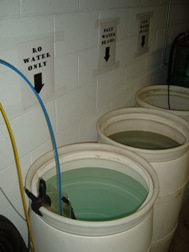 RO Water Barrels
Slow leaks: moving aquariums and having 3 develop small leaks once they were set up (and running of course). Leaky bulkheads in the bottom of tanks (that's a current trouble even) that drip just enough water to make Housekeeping crazy with constant puddles. Forgetting the plumber's tape around a bulkhead and trying to fast fix with caulk in a very small, non-ventilated space – ah the colors.
Power outages, don't get me started! Or staff nearly electrocuting themselves and the fish when the RO water sprayed onto power strips hung under the tank.
Siphoning by mouth – need I really say more? Except for my favorite quote: "Anybody got any listerine, cause I might die."
Many people have played with a garden hose as a kid. I loved the spray nozzle. However, in my many years experience, I have come to regard the nozzle warily. It is a common occurrence to shut the water pressure off and set the hose down. It almost inevitably lands handle down, thus expelling the last bit of water spraying straight up…into the unsuspecting face. Wary indeed.