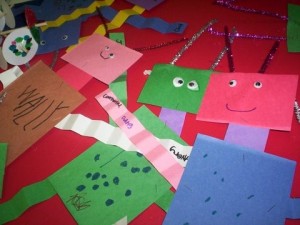 Robots are amazing! Some make you milkshakes, some help you clean your house, some even entertain us (as if drinking a milkshake while cleaning your house was not entertaining enough) and as we have found at Xplorations Camp this summer, kids love robots.
The kiddos in Rockin' Robots camp this week have had the chance to learn what a robot is: they program some really adorable bee-bots to travel around, they make some fun robot crafts and even practice moving like a robot for the robot sing-a-long at the end of the week.
As kids get older, they can come back each year for more robot excitement in Roving Robots for 6 and 7 year olds and then RoboLab and Battlebots for 8-12 year olds and we even have an Advanced Robotics class for those who are excited about more in-depth programming.
Kids come up with all sorts of cool things robots could help us with – a favorite has been the robot who does homework and makes root beer floats.  My cousin visited earlier this summer for a week of camp and was the grand champion of her Battlebots Friday Battle. It is so much fun to check out these camps as the weeks go by – great to see kids enthusiastic about building and exploring and making things go – a great start for our future engineers.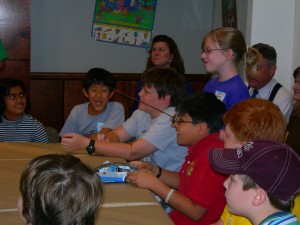 Just in case you were wondering – Merriam Webster defines a robot as follows:
1 a
: a machine that looks like a human being and performs various complex acts (as walking or talking) of a human being
; also
: a similar but fictional machine whose lack of capacity for human emotions is often emphasized
b
: an efficient insensitive person who functions automatically
2
: a device that automatically performs complicated often repetitive tasks
3
: a mechanism guided by automatic controls
Just as an update on my last post, the coolest thing I bought for camps this week – by far – is the Pitcher Plant I got at Whole Foods. The Parasites and Predators camp will study it when they learn about carnivorous plants. The grossest thing that's been in the fridge lately is probably the pans of "gross krispies" – our yucky rock-, bean- and shell-filled version of rice krispies treats that smell like delicious, real rice krispies but are filled with things you know you can't eat.