Today's guest blogger is Carol Bourke, a teacher at Duchesne Academy who accompanied our paleontology team to Seymour, Texas two weeks ago. Carol and the rest of the team spent their days learning about prehistoric creatures as well digging in the field for Dimetrodon bones. Here's what Carol had to say about the experience: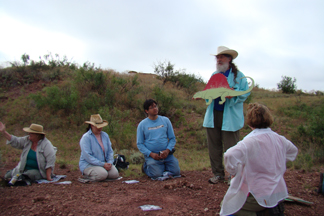 Dr. Bakker gives a lecture to the teachers
The Paleo Field Trip was terrific; excellent, knowledgeable and friendly staff, tons of experience and great camaraderie. 
Doing real paleontological field work has been a goal of mine for a long time.  I would have settled for a lot less than the HMNS trip, but the experience I had, working with the museum team at one of the best sites in the world, was as good as it gets. 
Key to the benefits of this trip was working alongside Dr. Bakker, a fountain of facts, insights and humor.  What a guy!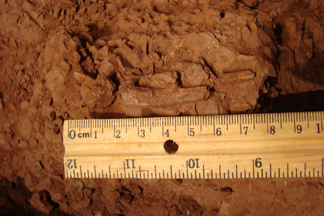 To the untrained eye,
fossils can be hard to distinguish from rock
So, there I was, on my hands and knees, trying to distinguish fossils from rocks and hard clay, hoping to find something important and worried that I'd lose or destroy invaluable clues from the past. 
I'd expected to be hot, dirty and challenged – well, I was right!  And I loved every minute of it, well almost every minute. 
Each morning, we left our house fortified with a tasty breakfast, loaded with gallons of water, anticipating the finds of the day and knowing that we would place additional pieces into an historic puzzle.  We were rightly intrigued by the nature of the puzzle, because its solution will reveal the life and times of the first carnivorous vertebrate that walked the land, our direct ancestor and the ancestor of all mammals, the Dimetrodon. 
In the evening we returned to the comforts of our house tired, dirty, hungry and satisfied with our work.  Even as we relaxed and chatted, I struggled to sort out our findings and their implications.  Fortunately, I had the help of my teachers.
As a teacher myself, I often wonder what questions reside in the minds of my students, and now I've garnered more grist for the mill.   
Maybe you didn't know that: 
You can find fossils that are at least 300 million years old, like trilobites, sponges and brachiopods, just by looking on the ground. Better watch your step!

An amphibian is better distinguished from a reptile or a mammal by how its skull fits onto its spine, rather than by its moist, naked skin. So much for keeping it simple.

Those great looking "dinosaurs" with the big back fins aren't dinosaurs at all. In fact, they lived more than 40 million years before the first dinosaur was a hatchling.

Separating animals into major groups (amphibians, reptiles or mammals) can hinge on seemingly minor skeletal features. The schizophrenic angular bone, located at the angle of the jaw in our vertebrate ancestors, morphs over time into the rim of our eardrums.

Dinosaur skin and other soft tissues can fossilize. Just ask Leonardo.

Mothers should continue to count the toes of their babies, but don't forget the fingers!

Centipedes are as beautiful in real life as they appear in textbooks and web sites.

Snakes would rather scoot than shoot, so give them space.

Bullets are sometimes organic, but you won't find them at health food stores.
If you're curious about these factoids or others, do something about it – like staying tuned to this site.  I for one will be tuned in, working on lesson plans that will integrate my first hand experience into the experiences of my students. 
Before signing off, I want to thank Dr. Bakker, a master teacher for sharing his knowledge, insights and table with me.  Thank you, Dave Temple, wildlife photographer extraordinaire and assistant curator of paleontology at the Houston Museum of Natural Science, for taking such good care of me and my fellow novices.  Chris Flis was also great to work with; he answered all my goofy questions patiently and with a straight face.  The museum volunteers were expert – – always helpful, with experience and information to spare.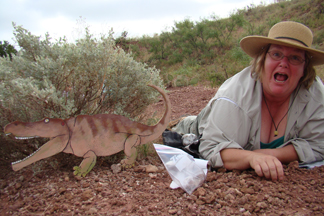 Be careful – as volunteer Gretchen Sparks discovers
here, there are dangerous creatures all around