Our guest blogger today is Chris Linder, a Research Associate at the Woods Hole Oceanographic Institution in Massachusetts. He is the project manager and field photographer for the National Science Foundation-sponsored Live from the Poles project. From July 8-25, Chris will be posting daily updates about a research team studying glaciers in Greenland to the Polar Discovery website. In addition, he will be making live phone calls from the ice to museums across the US, including HMNS. Check the full schedule here.
My name is Chris Linder; I'm a photographer and researcher from the Woods Hole Oceanographic Institution (WHOI) in Massachusetts. From July 8-25, I'll be writing Beyond Bones posts once a week from a research campsite on top of an ice sheet in Greenland.
The researchers, from WHOI and the University of Washington, are studying the lakes that form on top of the ice sheet in summer. In previous years, measurements have shown that these lakes, which can be up to mile long, drain very suddenly and completely in a few hours. The water flows through a massive crack, called a crevasse, straight down (roughly a mile) to the bedrock. The amount of water flowing per second is greater than Niagara Falls.
A Glacial Lake
Once the water gets to the bedrock, it acts as a lubricating layer, allowing the glacier to move more quickly. Using a suite of long-term monitoring instruments, we are hoping to learn exactly how quickly, and the effect that these slip-slide events are having on the overall speed of Greenland's glaciers. To see an animation of how this process works, click here. 
Why should we care what happens in Greenland? When glacier ice oozes off the land and into the ocean, it adds to the volume of ocean water, and causes the sea level to rise. Since 38% of the world's population lives within 60 miles of the coast, you can see how a slowly disappearing coastline affects billions of people worldwide. With the knowledge of how the lakes are affecting glacial motion, scientists who create climate change models will be able to more accurately determine the future impact of global warming on our coastlines.
In addition to these blog entries, I hope you'll visit our expedition website  to see daily photo essays about what the researchers are discovering about Greenland's glaciers and life in the ice camp.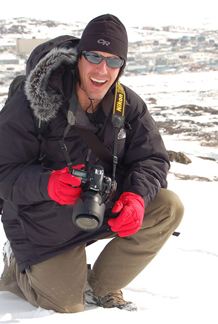 Me on the ice
So what am I doing now? In these last few days before I get on the long series of flights to Greenland, my task is to sort, fold, organize, squish, and pack roughly 200 pounds worth of photography and camping equipment into hard cases and waterproof duffel bags. Part of the problem is trying to imagine what I need to be wearing in subfreezing temperatures – when the current temperature is 80 degrees. Just 20 minutes ago, in fact, I realized that I hadn't packed a single pair of socks!
I hope you tune in later this month when I post another entry to Beyond Bones—from the ice. Or, come to the museum on July 21st, when I'll be calling the museum to answer questions from the public live over a satellite phone (6:30pm in the Burke Baker Planetarium).
-Chris