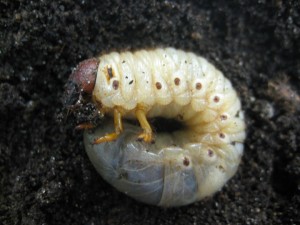 Last week I was wondering around the containment room looking for something to do. It's not like I had nothing to do, but I was just looking for something different that day. I decided to tackle the 24 containers full of dirt and grubs. About a year ago right after we opened Erin got an exciting phone call. A guy had LIVE beetle grubs in a wood/compost pile in his back yard and he didn't know what to do with them, so he decided to call us. We jumped on this one and told him to bring them our way. Phone calls like that are normal around here, but they are extra special when it involves a large live insect that we get to keep. He brought the grubs in a large trashbag with lots of dirt and wood. It was like opening up a huge Christmas present with lots of little presents inside. We found 24 grubs. We weren't sure what type of beetle they were, but we knew they could either be the Ox Beetle or the Eastern Hercules Beetle.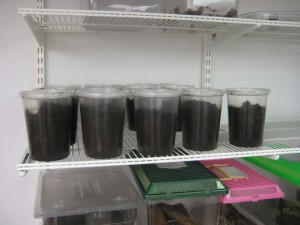 Erin and I were fortunate enought to raise a few Dynastes hercules grubs a few years back, but it was only a few, not 24. We decided to give each grub an individual container. We kept the dirt they came in and mixed in some potting soil, ecoearth, and lots of rotten wood. After that we sat back and waited. About once a month we would make sure they were all still alive and add new dirt and wood if needed. We would also check the moisture in the containers every now and then and added water as needed.
So . . . last week I thought I would add all new dirt and wood to all the grub containers. Erin and I had collected some rotten wood the week before just for that purpose. I was a little nervous to dump out all the dirt from each container because there was a possibility one of the grubs had pupated. Beetles have complete metamorphosis in which they have an egg, larva, pupae, and adult stage. The grubs enclose themselves in a cell of dirt and saliva before they go into the pupae stage and the last thing I wanted to do was bust open that enclosure.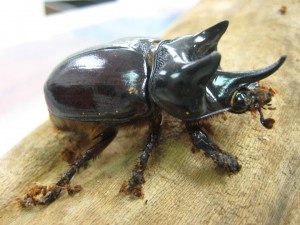 This is what happened . . . I got the first container with great anticipation. I read that it takes about 12 months for the grub to grow, pupae, and become an adult. Maybe, just maybe we would have adults. I slowly and carefully dumped out the dirt and to my surprise there was NOTHING. I was very puzzled but Erin soon informed me that she had found a wandering escapee and put it into another large dirt bucket we had. So, I moved onto the second containter and found a grub. I added all new dirt and fresh rotten wood and went to the next one. I think I found 4 grubs and then my luck changed. I dumped out all the dirt and discovered an ADULT! I'm pretty sure Erin thought I was crazy because I screamed and was so estatic. We had a female ox beetle, Strategus aloeus. We really wanted the eastern hercules beetle, Dynastes tityus, but this was still cool. I found a total of 8 adult females but no males. Fortunately, we have a male that we collected last summer, so maybe we will get babies. On the last container that I opened I busted open a pupal cell and found a wiggly pupae. I decided to just leave it in the containter on top of the dirt. I kept checking on it last week and yesterday I found that a female had emerged from it. It always makes us feel like such good parents when we successfully raise baby bugs. All the beetles are on display in the insect zoo so you should definitely come and check them out.
One more quick story that happened last night after I wrote this blog. My husband, Nick, called me outside because he thought our dog had caught a snake or something and he wasn't about to investigate it himself. I crept out into the grass and saw something moving. After I got a flashlight I discovered that is was in fact an Ox beetle, just what I had written about that day. Fortunately, it was still alive so I released it into my front yard away from my dogs. It must be the time of year for Ox beetles so keep an eye out in your yard for these amazing creatures.