After a few days of soaking the bones in the hydrogen peroxide bath, I took the skull out and dried it off.  According to Lee Post, if a bone still has fats inside it, there will be spots on the bone that are darker and still look wet even after it is totally dry. Taking the skull out gave me the opportunity to identify the bones and see how much more of a soak it would need.
I picked the skull because it is the bone that most readily identifies an animal.  In this instance I began by asking Dr. Bakker what he thought.  From the pictures I showed him, he said dog. 
I already knew it was a canid, so it wasn't surprising that it was a dog.  At first, I wanted to determine what type of dog it was, but I quickly realized that was kind of dumb on my part.  It was probably a wild dog.  I wanted to check it out anyway however, just to make sure.  It was going to be fairly crucial to the articulation to make sure I have the right critter, so I went to Skulls Unlimited to see what they had for comparison.  Except for specialty breeds, like pugs, my skulls and their skulls are a pretty close match.
As I said in the original post, my parents live on a ranch.  Around their ranch are several packs of wild dogs. It is not uncommon for people to shoot at the dogs because they will hunt livestock, fight with working dogs and are occasionally rabid.  To think that this was a wild dog that was shot isn't too far fetched (no pun intended).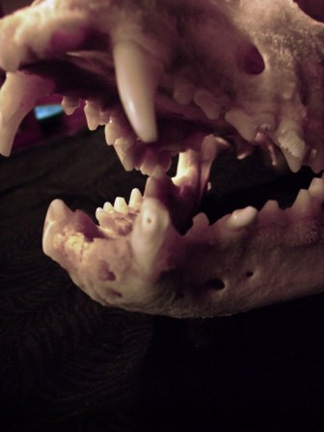 I took a look at my vat o' bones and considered this theory.  All the major bones seem to be there – leg bones, pelvis, shoulder blades.  None of the spinal column bones or the ribs seem to be shattered like a bullet hit them.  So what this tells me is that this theory might be faulty.  The skull is smaller than Millie's would be.  She is a 60 pound dog, so she is good sized but not huge.  I imagine this dog being more in the 35 to 45 pound range.  The dog would have been more compact, a small target.  It seems logical to conclude that the shooter would have gone for a body shot, and it seems nearly impossible that, from several yards away, he or she wouldn't have hit the dog and shattered several bones.  So if it wasn't a bullet, what was the cause of death?