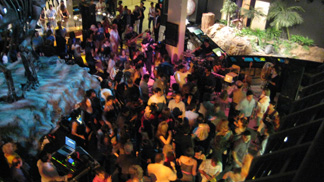 Mango Punch performed at Mixers
last week in front of a crowd of 800 people
Did you come to last week's Mixer? Mango Punch used their signature latin sound to bring over 800 people to their feet! And this week, the question that everybody is asking me is: Who is Little Brother Project?!?
As someone who gets to pick the tunes you listen to every week at Mixers I have the pleasure of exploring for new talent. The moment Little Brother Project starts playing you can tell the crowd is picking up what they're laying down. Since I'll see you at Mixers this Friday to listen live to their tunes I present to you a small chat I had with band-member Tyson Stargel that will give you a little background that tells you what these guys are really about…
Jamie: Describe your musical style.
Tyler: Funk based Rock band with a mixture of groove and improvisation.
J: Which artists have influenced LBP the most?
T: Phish, Bootsy Collins, Dennis Chambers, and Bob Marley.
J: What are your thoughts about the direction of the music industry today? What do you like about it and what do you wish you could change?
T: As with any business you must ride the wave and change your perspective to continue to be successful. It will always change. What we love about it is expression. Lighting up a room of people by hitting that one note that makes everyone focus on the music is very powerful. Almost intoxicating. We don't really focus much on what we would change. We try to focus on what we like, not what we don't like.
J: Where in Houston do you go to see live music when you're not performing?
T: Meridian, Dan Electro's, Last Concert Cafe, Warehouse Live, Continental Club, Rudyard's, Engine Room, Fitzgerald's… Anywhere/everywhere.
I invite you to head out to Mixers, Elixirs, & IMAX this Friday to get a real taste of the heart and soul of this band – their music. Groove to the funky jamz of Little Brother Project on June 13th from 6 – 10pm only at the Houston Museum of Natural Science.