Our guest blogger today is Amanda Wong. She is an intern in the public relations department here at the Houston Museum of Natural Science. We asked her to write a blog about her favorite experience at the museum so far; let's see where she takes us. 
Nobody mentioned that a 77 million-year-old mummy dinosaur would be a part of my museum public relations internship! Writing news releases. Dealing with the media. Overseeing interviews. Those are some concepts I figured I'd be focusing on when I became an intern for the public relations department at the Houston Museum of Natural Science.
Thus far, I have received all of those experiences and more. And by more, I mean opportunities such as getting firsthand glimpses at Leonardo, the 77 million year-old mummified dinosaur that is going on display at our museum in September. In 2000, Leonardo was discovered on a ranch in Malta, Montana. It is now in Houston being studied and prepared to go on display.
The day I went to see Leonardo I had no time to mentally prepare for what I was about to see. The big idea did not hit me until I entered the facility where the mummy was being housed.
It was at this moment when I realized how we as modern human beings seem to disregard the existence or prominence of dinosaurs. For most people, dinosaurs are associated with the giant bone structures they see on display. Few people have had the good fortune to see a dinosaur still entirely intact or the ability to even fathom that such an entity still exists.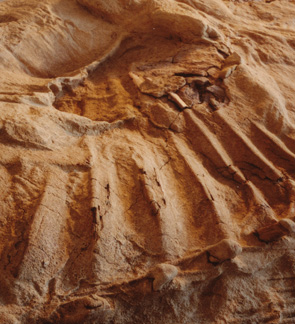 Fossilized dinosaur ribs covered by fossilized skin
As I entered the doors to the hangar, I realized I was about to see this phenomenal specimen before the majority of the public even knew it existed. Before I even tell you what happened when I finally saw Leo, I need to give you a little insight into my character.
I'm a senior studying communications at the University of Houston. I'm very involved on campus and I am a very talkative, bubbly person. Seldom is there a moment when I'm quiet. Really, silence bothers me.
But – the moment I saw Leonardo, I was silenced in a way I cannot describe. In front of me stood what at first looked like a giant rock in the shape of an animal. As I drew closer, I could see the defined texture of this object become more apparent. Leonardo's skin is still covering a good portion of his body. I have to say it again…77 million year-old dinosaur skin? I still cannot find words to describe what it is like to see that in person!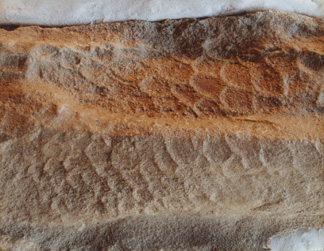 Fossilized skin still on the bone!
The area that the dinosaur mummy was stored in was a small space, so to walk around Leonardo you had to get really close. Clumsy by nature, I chose to walk very carefully because I'd hate to be known as the girl who fell onto the dinosaur mummy and cracked it in half. That is not how I want to obtain my fame.
Leonardo's size alone is astonishing. When I was told he died as a juvenile, I was blown away. How big was Leo's mother? If I was a dinosaur bully 77 million years ago, I wouldn't have messed with Leonardo. Or his mom!
The most fascinating aspect of Leonardo was seeing his head and his face. It is stunning enough that the entire body of a dinosaur lies before you, but to stand there and look at his face, still contoured with reptile-like skin, is unbelievable. I could go on for days about how seeing this mummified dinosaur made me feel, but the best advice I could solicit is to come see Leonardo when he goes on display in September here at the Houston Museum of Natural Science. There is no way to perfectly describe the way you will feel when you marvel your eyes on this massive creature from another time period. Start planning your trip to come meet Leonardo!