Candy can be a useful teaching tool, even if you don't advocate eating it. It's well known, comes in lots of varieties, and it's cheap if you buy it in bulk. It can also be used after its expiration date – great for construction, not consumption. I have used it to illustrate cell and organ structure; architectural design and geometric structures; and, by far my most favorite, dichotomous keys and taxonomy.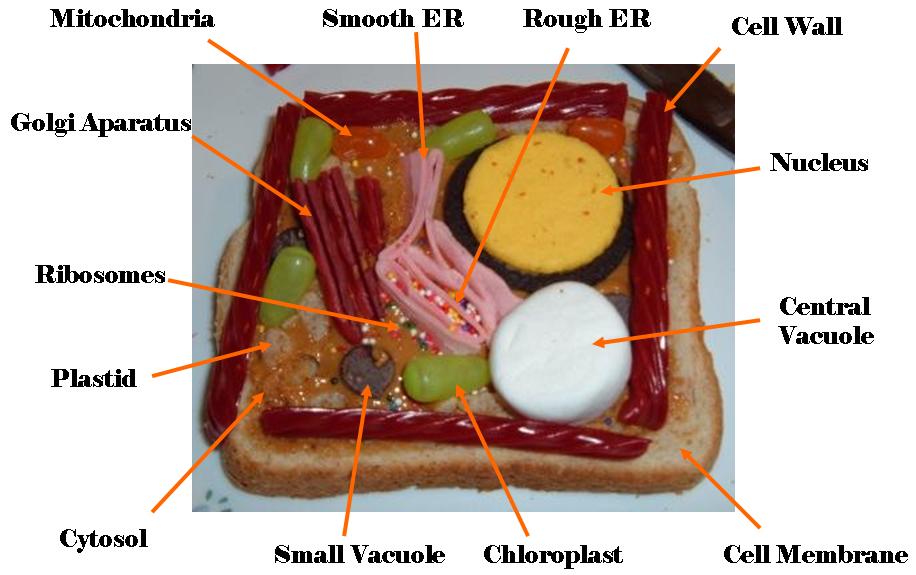 Test plant cell model
I was first introduced to taxonomy in high school. We had to know the classification of every animal we caught for Marine Biology or dissected in Biology. It wasn't until college, when we were given the oddest assortment of corks, stoppers, nuts, bolts, nails and screws, that I was introduced to dichotomous keys directly. I am addicted to sorting and organizing, so that assignment was one I thoroughly enjoyed. I had to determine relationships, categorize each "specimen," name it, and create a key so that anyone could figure out which specimen was which. Loved it!
Years later, in a Texas Master Naturalist training class, an instructor used a simple candy dichotomous key to show us how the key worked before letting us tackle the identification of fish. Have you ever noticed the chin barbels on a croaker? I almost missed them. Dichotomous keys can help scientists to identify field specimen and hopefully new species as well.
The idea to use candy to ease the uninitiated into dichotomous keys was brilliant! So of course I borrowed the idea to use with kids. Now, with kids I kept it simple: "use this key to identify the unknown piece of candy – your 'specimen.'"
To make sure it worked, I made up names for the candy. Almost everyone knows what a Hershey's kiss is, but what about Smackus pennsylvius? It's the name I came up with for the kiss – Hershey's HQ is in Pennsylvania and in cartoons a kiss comes with a pucker-smack sound, hence Smackus (there are a lot of different Hershey kisses, worth their own genus) and pennsylvius after their origin. You can get a lot more complicated by assigning other species names to each kiss, since they do vary and I assume cannot interbreed. I used the original kiss in the key, so went with the origin for the species name.
Before I get too carried away (and I will) here is a simple key I created for one class. See if you can follow the key below to find the names of Smarties, Jolly Ranchers, Reese's Peanut Butter Cup, Candy Cane and Mar's Minis Mix (mixed bag mini Mars brand bars).
In any dichotomous key, you always start at #1. Like a choose-your-own-adventure story, you are given two paths from which to choose. Each number has 2 choices, or characteristics, that describe the specimen. Each step usually gives you an answer or a direction (go to #3). You may skip a step in a key based on the directions you follow. If your specimen doesn't fit into either characteristic, go back a step and see if you made the right choice. By observing carefully, you can get the right answers. Of course if your specimen doesn't fit at all, you may have discovered a new species!
1a. Wrapper is metallic material
1b. Wrapper is non-metallic material
go to #2
go to #3
2a. Shape is circular
2b. Shape is rectangular
Gooberis moosi
Rufusastrum micros
3a. Packaged in groups
3b. Packaged individually
Tarticus owlii
go to #4
4a. Multiple colors present
4b. Multiple colors absent
Noelia crutchii
Bombre merrii
See if you can reason out the names once you have matched them up with their candy. I used my imagination, a good dose of silliness (good for the heart) and some actual Latin roots to come up with these names. The great thing about Latin is you can have a lot of fun trying to pronounce it as well! I'll give answers if you are interested – please comment.
This is a very basic key; it only lists 5 specimens. which could suggest that there are only 5 species of candy. We know that isn't the case, but remember that this was for kids and maybe the first time they had tried this.
To actually try and classify (and name) all of the candy you can find in a grocery store gets a lot more complicated. But for someone addicted to classification or candy, it sounds to me like a good time. Happy sorting!