By Frances Zollinger
BEYONDbones
       In the very last week of May, an unruly rabbit was discovered destroying property at the Houston Museum of Natural Science.  The perpetrator was caught red-handed in an upturned 20-gallon aquarium with coconut bark scattered all over the floor.  He is known as the Dust Bunny, aka Dusty.  His fur is as black as night, his eyes as big as the moon, and it is rumored that he has an uncanny ability to tame even the wildest of snakes.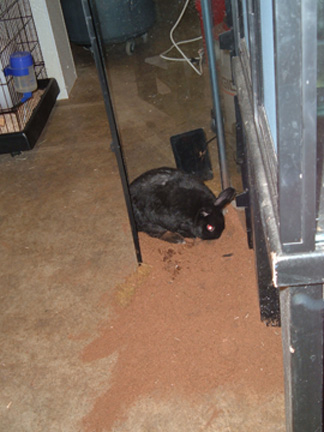 The Dusty Bunny inside of the aquarium
unaware we are watching his bad behavior
Prior to the capture, unusual clues had been left lying around the Animal Room: half-eaten carrots, chewed electrical wiring, and small tufts of soft, black fur.  After thoroughly exhausting our options, the staff set up hidden cameras, trip wires, and traps.  When Dusty successfully evaded the traps, the staff resorted to stalking the culprit, camera in one hand and bunny kennel in the other.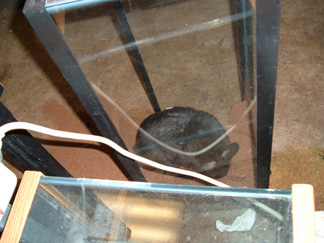 The "hidden camera" caught Dusty excavating
        A crisp carrot, complete with top, was laid out near the rabbit's favorite corner of the Animal Room and when he finally appeared, the staff were able to capture him in the middle of his criminal act.  This creature of the night attempted to fend off the staff but was quickly subdued after a few gentle pats and promise of a fresh carrot.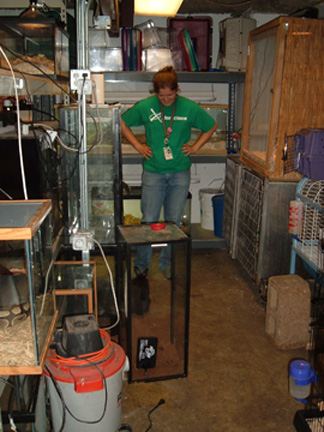 Frances discovers Dusty in the middle of his crime
Writer's note: When the Dust Bunny isn't helping us teach in a classroom or at a Wildlife on Wheels program, he regularly has free reign to wander about the Animal Room for some supervised exercise. Dusty likes to explore underneath cabinets, coming out with feathers, dust, and occasional cobwebs stuck to his whiskers (hence the name Dust Bunny). He enjoys following the staff around the room (checking in with them to make sure they're still working hard), eating his carrots, and occasionally rearranging wires that may be in his way. When he's ready for a break, he will stretch out on the lower level shelves next to the warmest tanks in the room, ironically, the snake tanks.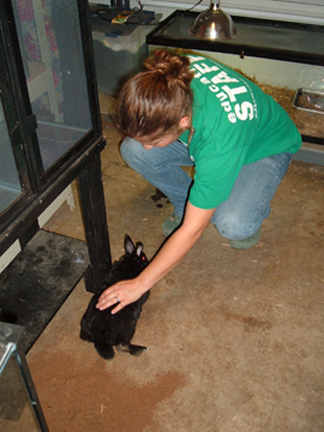 The rather sweet little Dust Bunny loves attention