Well, actually we're not. That would actually be a really, really bad idea – and if you saw our post earlier with a photo from yesterday's site, you have a good idea why.
The weather started building yesterday afternoon and by this morning it was coming down hard. Since we were planning to dig Marco, the site Steven discovered yesterday, he was a little disappointed.
And it did rain all day – the first time they have had rain like this in over a year. So it's not just soaking in – it's running over the surface in rivers and creating vast quantities of mud that make scaling the steep cliff faces these sites are at the top of near to suicidal.
So, we got the opportunity to work the Dinosaur Field Station, which was just as fascinating (and much less dangerous and/or muddy). This is the facility where they do prep work on finds once they have been brought off the site – stabilizing the fossils, removing the dirt, or "matrix," and preparing them for display.
It used to be an auto machanic shop, but they have renovated it to include all of the tools they need – large workspaces, a huge storage closet, a wine refrigerator that houses vinac (a glue solution), outlets for air drills that are used to pick away at the matrix and much more.
Right now, the Field Station is a mix of display and work-in-progress, but when the Great Plains Museum opens on June 6, it will serve as a permanent home for these fossils, as well as Leonardo, after his world premiere debut at HMNS.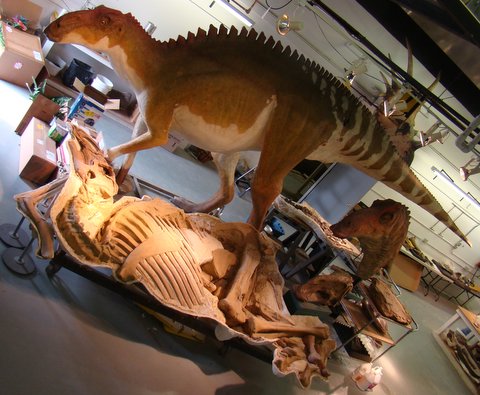 A life-size model of Leonardo stands guard of the real
remains of Roberta, another Brachylophosaur.
So, in addition to prospecting this week, Dr. Bakker is directing the movement of fossils from one place to the other. Today, we assistied with the documentation and categorizization of what they have in storage from over 10 years of digging here – which was quite fun, as they were constantly discovering something they hadn't seen in several years, like a T. rex brain case (essentially, a natural cast of the inside of a skull) and we got to hear the stories of discovery and excavation. (We'll share more video soon.)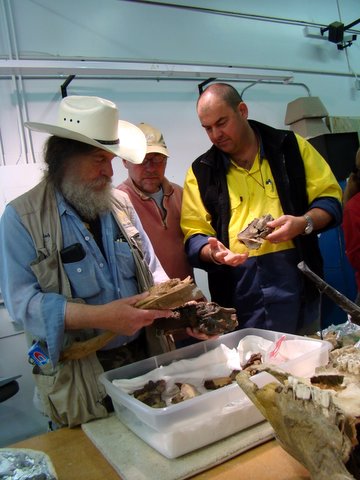 Dr. Bakker, Mark and Tim going through stored fossils to
identify them and analyze their significance
within the planned displays at the new Great Plains Museum.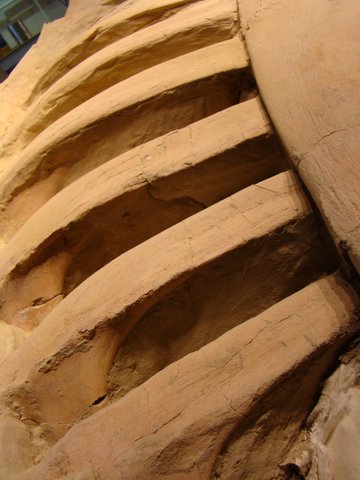 A closeup of Roberta's ribcage.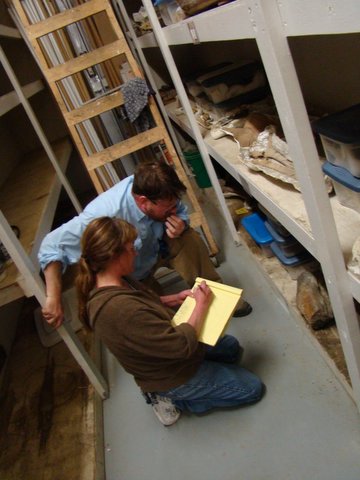 Dave and Kathy are examining some fossils in storage,
to record them before the move later this week.