Today was our first real day in Malta. I was so excited to be here that I couldn't sleep and found myself lying awake at 5 am.
I met up with Erin and all the paleontologists (David Temple, Dr. Robert Bakker, Tim Quarls, Mark Thompson, Sue Frary, and Kathy Zoehlfeld) at the early hour of 6:30 for breakfast, and then we headed on over to the dig site. It's about thirty minutes away from Malta, and is the location where the dinosaurs Leonardo, Peanut, and Roberta were found.
Mark and Tim led the way across the ranch, our three cars kicking up dust as we traversed thousands of acres of farmland. We wove up hills and down ravines, slowly following a narrow path that was often blocked by cows. After spending another half hour crossing the ranch, we finally arrived at our first destination, a dig site called 442. We loaded our pockets with water and sunscreen and walked the rest of the way.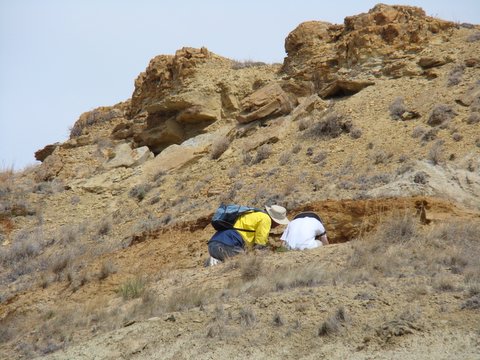 Mark and Steven check out the
yet-to-be-named (at this point) Marco site.
We had been hiking for about ten minutes when Mark stopped me and pointed out a dinosaur bone to me. It was small and laying at the base of a hill. To be honest, it looked a little bit like a rock to me. It was a small fragment, no bigger then half my pinky. The bone had been weathered, and what was left was mostly bone marrow. Mark pointed out several more near by fragments, so I could get an idea of what I was looking for.
Then the group split up to start searching the nearby area. I started by scrambling up the narrow ledges to the top of a hill. I searched for nearly a half hour without finding anything of value. However, at the top of one hill, just below a jutting rock, I found a fragment that I thought might be bone. It was small, about the length of my thumb but a little skinnier. It looked a little like petrified wood.
I saw several of these pieces lying around, so I mentally noted the spot and went back to find David. He told me that I had found a piece of a dinosaur rib! I excitedly went to go show Mark, who was gathering everyone else in order to move to another site. However, I showed him my rib and told him that there were several more pieces at the site. He followed me back to the location, and began to look around.
He immediately noticed the ribs lying on the ground, and found several other bone fragments near by. He then found something really exciting. Jutting out from the rock was a gigantic dinosaur shoulder blade! He also showed me a few other bones visible in the rock as well as a few tendons. He called over the other paleontologists and we began a more extensive search, finding several pieces of bone fragments scattered down the side of the hill.
Bakker then told me to clear my head, and think of two syllables, and informed me that that would become the name of the site. I had no time to think, but the first name that popped into my head was Marco. I was thinking of the explorer Marco Polo.
I have named a dig site. I have found pieces to a dinosaur, a baby duckbill dinosaur to be precise. And tomorrow, the rest of the team and I will return to the dig site to dig up the rock that the shoulder blade was in and see if we can find more of Marco.
(Just a note: We got lots of great photos today, but due to technical difficulties, we'll have to upload them in the morning. Be sure to check back – it is amazingly beautiful here. UPDATE: Here are a few more photos)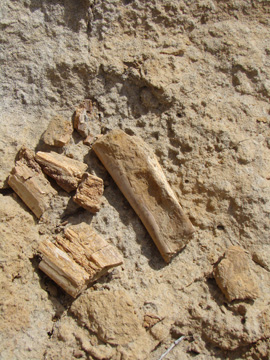 Some of the first bone fragments
that Steven found at Marco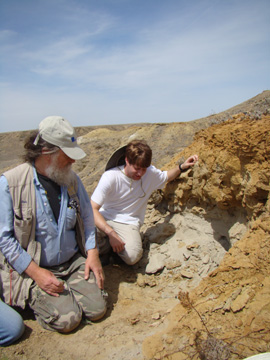 Steven and Bakker examine the Marco Site