My role as Planetarium Astronomer includes answering astronomy questions from the public over the phone, by email, and in person.  Thus, it is up to me to examine meteorite samples brought in by the public.  Or, I should say, "meteor-wrongs," as none of the samples brought in since 1996 (when I began doing this) have actually been meteorites. 
First, let's define some terms.  A rock which is about to enter the Earth's atmosphere is a meteoroid.  Someone who happens to see it as it is falling, and thus sees a streak of light in the sky, sees a meteor.  Once the rock has landed, it is a meteorite.  Most meteors that we see burn up completely in the atmosphere and therefore never land as meteorites.  A meteorite, then, is a rock which originated in outer space.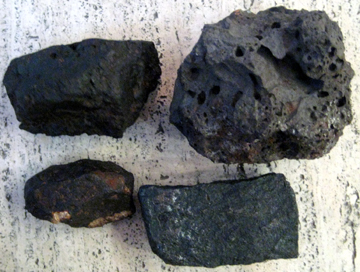 Can you tell which of these is a meteorite?
If you have a sample you believe came from outer space, here are 4 simple tests you can do at home.  Note that passing these four tests will not guarantee that your sample is a meteorite; they serve primarily to eliminate 'meteor-wrongs.'
1) Is the sample heavy for its size?  Meteorites are denser than Earth rocks; they have more mass per volume.  A meteorite will be heavier than an Earth rock of the same size.
2) Does the sample attract a magnet?  Most meteorites found and brought in are iron meteorites.  Even the stony meteorites, which are more common but rarely reported because they superficially resemble Earth rocks, have some iron in them.  A meteorite sample, then, should attract a magnet.  Any magnet, including the ones on your fridge, will suffice for this test.
3) Is there a dark fusion crust? Upon entry into our atmosphere, a meteorite acquires a thin 'fusion crust' because its surface melts under the heat of entry.   This crust is black when the meteorite is freshly fallen but may turn brownish due to weathering and rust.  Bright colored or silvery samples are not meteorites.
4) Does the sample have bubble holes?  Many volcanic rocks on Earth have these holes, which form when a bubble of gas or steam expands as the rock solidifies.  A meteorite, however, is never fully molten (only the surface melts on entry into the atmosphere).  Thus, a meteorite sample is a solid hunk, without tiny holes or perforations.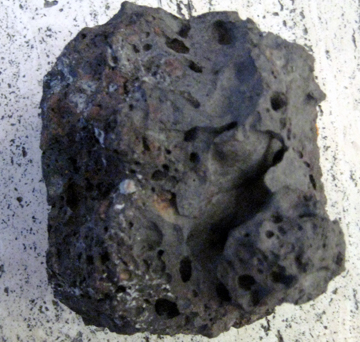 The many large holes in this rock
are a big clue that it is not a meteorite.
So, which of the four is a meteorite? If you go back to the first photo in this post, you should be able to see holes in the top two samples – so those are out. And the bottom right is bright and silvery = not a meteorite. So, the winner is the smallest of all four, in the bottom left.  
For more information, surf to: http://meteorite-identification.com/ ,  http://meteorite.fr/ (the site is in English, too), or http://meteorites.wustl.edu/meteorwrongs/meteorwrongs.htm