I thought I might share with you a glimpse of a beautiful Giant Swallowtail butterfly that visited the White Orchid Tree (Bauhinia mexicana) in my back yard.  I purchased this tree from one of our Fall Plant sales after I saw some hummingbirds feeding from the blooms. 
The plant was sitting just outside the greenhouse basking in the sunshine.  I figured that if the ruby throated hummingbird could find this delectable treat way up on the rooftop of the museum's parking garage, it would surely find it in my yard. 
I took one home and planted it just outside my back door in full sun.  The beautiful white blooms fill the outer tips of the branches in such a way that it resembles a fine lace in the distance.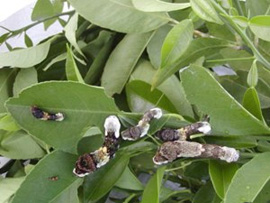 Giant Swallowtail Caterpillars
This visual appeal was too much for these two Giant Swallowtails to resist as they visited in unison one day while I was home.  I immediately ran to get my camera and take their picture.  To my delight just after they fed on the blooms, they lighted on my Meyer Lemon Tree to lay some eggs.   (The citrus tree is one of their host plants.) 
I wanted to take the larvae to the museum and utilize them as an educational tool for a gardening workshop.  Because I did not have any citrus trees at the museum to use as food for them, I cut some stems from the citrus in my yard and fed the fresh food to the caterpillars every day.
While the caterpillars went through their life cycle, I housed them in a plastic, 2 gallon aquarium with a mesh screen for a lid.  When they were ready to pupate, they attached themselves to the interior of the lid with silk and went through their metamorphosis.  I was able to use them as a teaching tool at the workshop and also release them into the exterior butterfly demonstration garden where they could feed freely and bask in the sun.