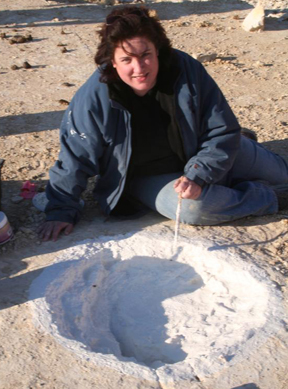 I am creating a mold of a Dinosaur Footprint
Hey!  Thanks for checking us out!  I'm Kat and I live in the basement of the HMNS.  That's really not as weird as it sounds.  I'm  the Assistant Director of Youth Education and we all work in the basement here. 
To sum up my job (which is hard to do),  I would have to say that it is mostly getting to have fun with kids for a living.   I have been getting to do just that for the past 11 years as part of the HMNS team. 
One of the best parts of my job is writing the curriculum for summer camp.  We have been gearing up for camp for months now and we are almost ready for lift off. I've  been ordering tons of supplies for camp, which just happens to be one of the most exciting parts of getting ready.  We need some of the weirdest things, from BBQ flavored bug larva to a powder made from red cabbage (it saves us from making our own, P.U.!).  The larva are for eating and the cabbage powder is mixed with water and becomes an acid/base indicator, which means it turns different colors when exposed to acids or bases. 
To make sure I stay on top of things in the world of cool, I've been allowed to go on digs with David Temple, Dr. Bakker, and the whole Paleo-team from the Museum.  I can't wait to bring what I've learned to the summer camps.  We've dug for dimetrodon in Seymour, Texas and studied trackways just outside of San Antonio.  I know that my experiences are going to up my cool factor with the kids by at least a hundred points!
Thanks again for checking us out.  Be sure to check back, as you never know what will be going on in the basement of HMNS!