Since they are located on the roof of the parking garage, there are  thousands of Houston Museum of Natural Science visitors who don't know that the greenhouses of the Cockrell Butterfly Center even exist.  That will all change, now that you have access to the details of our daily operations.
There are actually three glass greenhouses, each 1000 sq. ft. in size. They come complete with their very own heating and cooling systems.  There are lots of daily activities that occur within these hidden glass walls above the gems and the dinosaurs located in the main halls below.  These daily activities occur in rain, shine, wind, hail, tornado, hurricane…(Evacuate!!!), and flood.   (More on those in upcoming posts.)
The first of these three greenhouses, greenhouse #1, is used mainly to propagate and raise host and nectar plants used in butterfly gardening.  These plants are utilized in the Tropical Rainforest environment of the Butterfly Center for nectar enhancement of the meadow area and other pocket areas as needed. Tropical plant species awaiting transfer into the Rainforest Conservatory by one of our staff horticulturist are also housed in greenhouse #1.
Between April and November, these plants may also be found for sale on our Plant Cart, located just outside the collections gift shop. We also hold two, larger plant sales each year,  in April and October.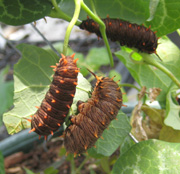 Hungry, Hungry, Caterpillars!
Greenhouse #2 houses 850 tropical passion-flower vines that are used to feed hungry caterpillars (the larval stage of the butterfly life cycle).  There are also hundreds of nectar sources utilized in our Heliconius rearing program. (In case you were wondering, nectar sources are the flowering plants that provide nectar to butterflies as a food source.)
Greenhouse #3 houses our butterfly rearing and larval (caterpillar) pupation facilities.  Within these insectaries, we house male and female mating pairs of the longwing butterflies.  Once the butterfly eggs are collected from the rearing insectaries they are transferred into the "pupation area" where the larvae continue to feed and grow until they  pupate. 
Upon pupation, the pupae, or chrysalis, are collected and transferred to the entomologist for processing.  After the pupae have emereged, they are transferred into the Cockrell Butterfly Center's rainforest environment as adult butterflies; ready to feed and start the cycle of life over again.