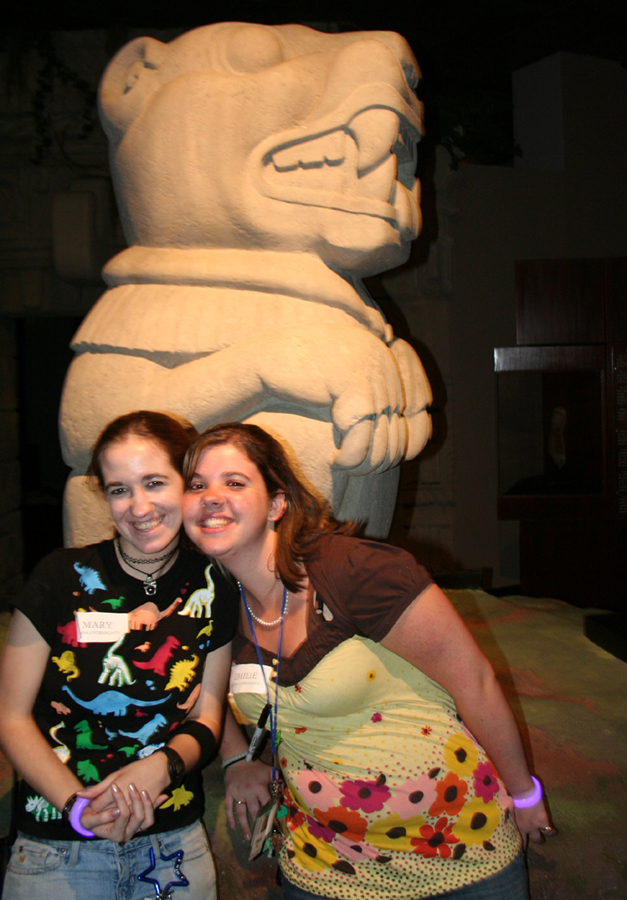 Mary and Emilie, Youth
and Family Programs
Facilitators, take a quick
break at the Jaguar
in the Hall of the
Americas.
Our first teacher overnight was a rousing success. Forty teachers arrived between 6 and 6:30 on Friday night for check-in and then spent the next 15 hours participating in da Vinci crafts, activities and tours.
The overnight staff, which included Kat, Allison, myself and our cast of helpers received high marks on the evaluation sheet, but the most highly praised portion of the evening was the midnight tour with David.
The tour was optional, but nearly all of the teachers were beguiled into attending by David (who was mentioned by name as the favorite part of the evening for 17 people). The worst part of the evening for many of those attending was that we had not designated a snoring section in the Hall of the Americas.
Duly noted. Ear plugs for all.
Comments on the evening included:
Great! Informative! Entertaining!
The woman next to me snored very loudly. Everything else was great!!

The topic (Leonardo da Vinci) was great. I like how everything was connected to him.

Educators working on creating a
replica Leonardo's parachute.

The best part was learning more about da Vinci and then trying to recreate his models/ideas with hands on activities.

Da Vinci drew me in – but other overnights would be fun!

Fun factor 10+ – I can create a lot of buzz among my students

My least favorite part was going to sleep. I wanted David's tour to go on for hours!
Looking at everyone's feedback, I think we will slightly rearrange the schedule, include spaces for a few more teachers – and include a snoring section in the sleeping area.
Two teacher overnights are scheduled for the 2008-2009 school year and we have interested teachers registered for both! If you know someone who might be interested, send them here.