So here's what went down since you logged off.
And the award for "least appetizing food product" goes to…PETA! For introducing the concept of "in vitro meat." If you can produce it – in "commerically viable quantities" – you could win $1 million.
Alexandria may be the new Venice. Rising sea levels are already threatening the city's ancient structures, and scientists expect they will continue rise there by at least 1 – 3 feet by the end of the 21st century.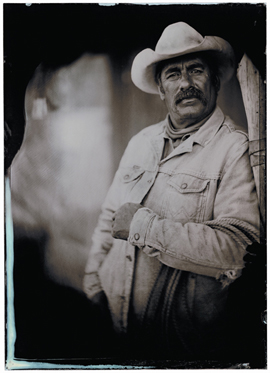 Modern cowboy
Ignacio Hsantillian.
(c) Robb Kendrick and
Bright Sky Press
Think the concept of energy is hard to define? Take a stab at "life" – there are more than 280 definitions on record already, and scientists are still arguing about which is best.
Researchers at the University of Manchester have created the world's smallest working transistor, smaller than a single molecule – out of one crystal of graphene.
Still waiting for that flying car The Jetsons' promised would be waiting for you just a few short years into the future? Too bad. Check out what scientists think will actually happen in the next 50 years.
Local arts blog Bayou Dawn points us to an interesting profile of photographer Robb Kendrick in the New York Times. Right now, Kendrick's amazingly evocative cowboy tintypes are on display right here at HMNS.