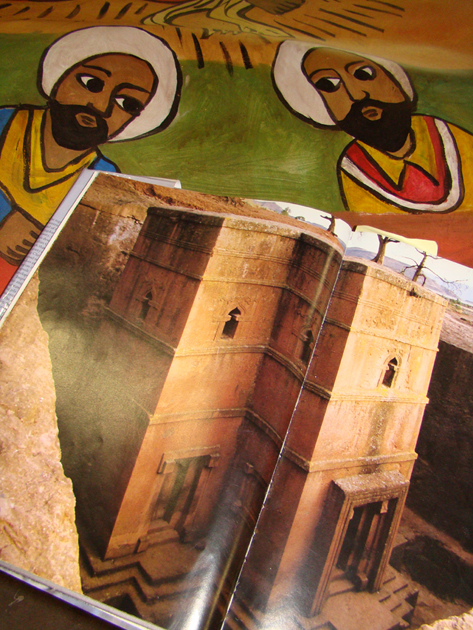 An image of the actual rock-hewn churches in
Lalibela, Ethiopia, resting on original artwork that
will be on display at iFest.
Seriously. Huge.
This could be said of iFest in general, what with over 250,000 people storming the festival's grounds last year – but I'm talking about the life-size replica of a rock-hewn church being creating as part of this year's "Out of Africa" theme.
Visitors to our Lucy exhibit might be familiar with these man-made wonders from Lalibela. 12th-century Ethiopians hand-carved these multi-story Christian churches right into the ground – they took 24 years to complete. If that doesn't seem ridiculously impressive, I'd like to know what exactly you get up to in your spare time.
We have a scale model in the show – since it would be no small task (and not at all advisable, given that it's a world heritage site) to move a million-ton church made of solid stone from Ethiopia to Houston. And that's given that you could actually detach it, and find the equipment to lift it out of the mountain it is literally carved right into.
Suffice it to say, in this very rare case, real thing = not a good idea.
But the folks over at iFest have done us one – or one thousand – times better on this one. And we were invited to take a sneak peek at the monumental process of building a rock-hewn Ethiopian church – in a backyard.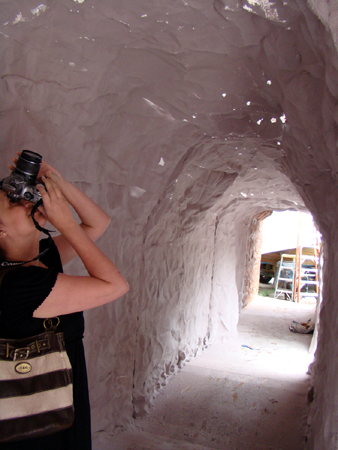 This very tunnel-y tunnel will soon be
part of a massive, life-size replica
of an Ethiopian rock-hewn church.
See how life-size it is.
Never having been to iFest, I expected to show up at the actual site where this huge monument will be on display. Not so. And let me tell you, it's quite a thing (a very cool, surprising, only-in-Houston thing) to round a corner in someone's neighborhood and come face to face with a giant Ethiopian tunnel – among the other surprises they're building to "ooh!" and "ahhh!" you this year.
Watching the construction – the wire, wood and plaster coming together to make ancient Ethiopian rock – was fascinating. Interestingly, it seems that the same stuff our paleo-guys use to protect and preserve the Dimetrodon fossils they're digging up in Seymour, TX is also very useful for creating replica Ethiopian tunnels. Apparently, plaster the new Duct tape.
Since they were still in the plastering stage, most of the action centered around this guy – who, we noticed, looks an awful lot like a pretty famous pirate. And for good reason – in addition to being a quite talented sprayer of plaster, he's also an actor who often portrays, drumroll, please…a pirate! (And he'll be in character at iFest, if you want to say hi.)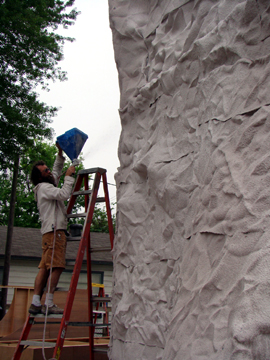 "No," he insisted – "Jack Sparrow looks
like me." Touche, sir.
Several iFest representatives were there to tell us all about what's going down April 19-20 and 26-27, including a visit from Queen Quet of the Gullah nation, an amazing music lineup, an Ethiopian fashion show, African cooking demonstrations, world art markets and more.
A lot of people commented about the general impression that iFest is just another place to get a turkey leg – an impression the organizers are trying very hard to combat. (And you can see, right here, that this event is indeed much more than an opportunity to sample different kinds of meats-on-sticks.) Which is wonderful; still, the question was raised – legitimately, I think:
"We can still get a turkey leg, right?"
Have no fear. We were assured that in addition to art, culture, unique experiences, entertainment and information, you can indeed also get a turkey leg.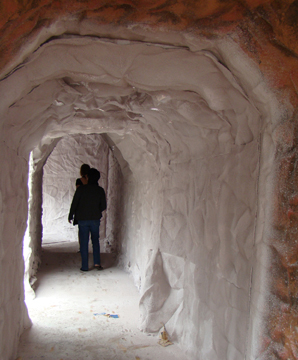 More tunnel vision.
Sadly, we didn't get to see the church itself – they'd already taken it to the festival grounds – so we'll have to wait and see it next weekend. (P.S. If you haven't been to see Lucy yet, stop by on your way to or from iFest – 4/27 is the last day to experience both.)
In the meantime, inquiring minds want to know: what's it like to build giant Ethiopian church in your backyard? How do you represent the culture of an entire continent in four short days? Check back next week for the answers, from iFest visual arts director Kati Ozanic-Lemberger.