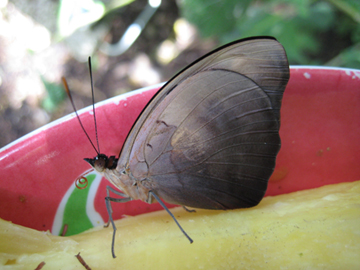 The Grecian Shoemaker
Catonephele Numilia
Each month, Erin and I are going to give you an upclose look at one of the bugs we have on display – an Insect Insight.
For the first, I thought I would share one of my absolute favorite butterflies with you.  I chose this one because it coincides with the recent blog "Buggin' around in Costa Rica."  The butterfly farm that we visited, El Bosque Nuevo, raises these butterflies.   
Catonephele numilia is native to Central and South America.  The common name is the Grecian Shoemaker or Blue-frosted Catone.  Adult males and females of this species exhibit sexual dimorphism by looking totally different.  Males are black with six orange dots on the dorsal surface of the wings whereas females are black with a light yellow band across the center of the fore wings.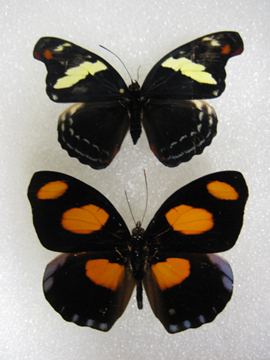 The Grecian Shoemaker exhibits
sexual dimorphism
When the wings are closed, both male and females look alike (as you can see in the first photo) and can often be seen feeding on rotten fruit.  In their natural habitat of wet lowland forests, the males tend to stay higher in the canopy while the female searches for host plants and nectar sources closer to the ground. 
The caterpillars of this species are rather aggressive when encounters occur with others of their kind.  A disturbed caterpillar will violently swing its spiky head back and forth to try to keep its enemies at bay. 
I had read about this crazy behavior and was so excited to actually see it at the butterfly farm.  Next time you are visiting the Cockrell Butterfly Center, keep an eye out for this butterfly taking in rays on a plant or sipping juice from fruit! And be sure to check back next month for more info about one of our six-legged friends!