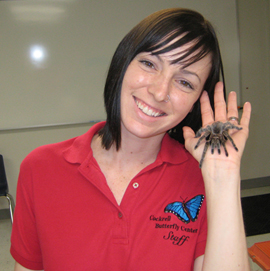 Me, holding a Rose Haired Tarrantula,
Grammostola Rosea
Hello my dear readers! My name is Erin Mills and I'm so happy to meet ya'll! I am an entomologist at the Cockrell Butterfly Center and here's my story…
I was born and raised in San Antonio, Texas. For all of my life I've been in love with animals and nature. As a kid, I was mostly interested in the big stuff, dogs, cats, horses, and by age 2, I could name all of the North American Mammals. But from time to time, I would find the occasional bug in the house and plead with my family not to kill it so that I could release it into the wild of my backyard where it belonged. I made friends with cockroaches, roly polies, and even fleas, but I never figured I'd be doing what I do today!
I started at Texas A&M in the fall of 2000 with a major of Biomedical science. I had it in my head that I was going to be a Veterinarian, but that was not in the cards. While registering for my first semester I stumbled across a class called Veterinary Entomology. I liked to see the word "Veterinary" but what on earth, I thought, what is "Entomology??" Well, I soon found out, and Veterinary Entomology was the most interesting class I had ever sat through. I decided to fill my schedule with as many Entomology courses I could, and eventually, I switched my major. Now this was all well and good, I was enjoying my classes, making good grades, but I had no idea what I would end up doing with my life.
About a year before graduation, my boyfriend (husband now!) took me to the Butterfly Center for the first time. I had never seen anything like that in my whole life, I was amazed, in love, and all of a sudden, I knew what I wanted to do! I graduated in 2004, with a degree in Entomology. After I graduated, it took me a year to get to where I am now, and I couldn't be happier.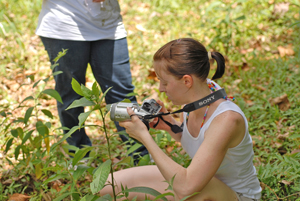 Capturing Grasshopers on Film in Costa Rica
Every day for me is different. Every day is a new miracle, a new experience, a new milestone! As an entomologist, I witness the lives and behavior of these amazing animals, and the look on a kid's face when they get to see, touch, and learn about these creatures makes me so happy.
I'm so excited about this blog because now, we can take you behind the scenes! I'll be blogging about what's going on in the Insect Zoo and Containment Room. I'll let ya'll know the skinny on who's new, who's growing, and who has a baby bump!
But seriously, I hope you'll come back to see amazing things that Laurie and I get to see all of the time, or maybe we'll all see something new together! Every month we'll have an Insect Insight column on a different resident of the Butterfly Center, so you can always learn something new. Soon, we'll be sharing with you all of the exciting stories from our recent trip to Costa Rica, so ya'll come back now!